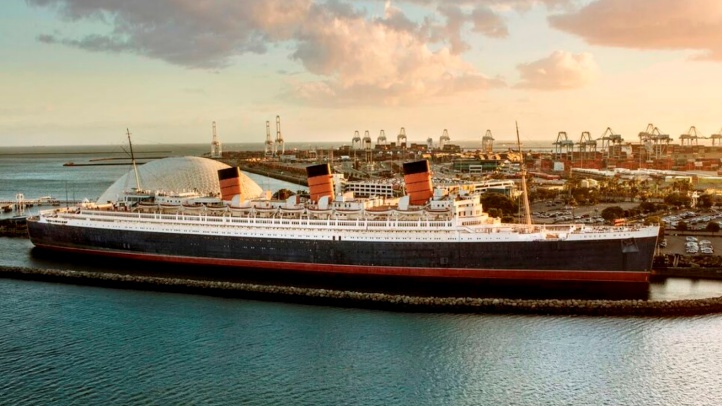 Free Queen Mary screenings open: Five classic films presented in one incredibly cinematic location? With no ticket-taking at the door? That sounds as summery as an ocean breeze. And you'll be able to experience ocean breezes, and the historic Long Beach ocean-liner as a backdrop, when you gather on the lawn near the ship for "Raiders of the Lost Ark" and "Indiana Jones and the Temple of Doom" on Thursday night, June 20. There are more films to come this summer — "Grease" on July 11 and "Beetlejuice" and "Edward Scissorhands" on Aug. 22 — so plan now. Parking? It is ten bucks, but, again, entry to the movie-watching area is free.
Valley Relics x Vintage L.A.: You love everything to do with Southern California, especially when there's a retro-fied wayback-a-tude to it? Oh goodie, you're in for some real flavor and fun on Wednesday evening, June 19. That's when Alison Martino's Vintage Los Angeles calls upon the Valley Relics Museum near the Van Nuys Airport for a night of neon, chitchat, and fundraising for the sign-filled spot, which has saved some true San Fernando Valley treasures along the way. A ticket is ten bucks, and you can bet a lot of mid-century mavens'll be out in their swankiest wear. Speaking of cool wear, the new Vintage Los Angeles t-shirt will make its debut that night, too. Out. Of. Sight.
Griffith Observatory's summer hello: Honestly? We've been saying "now that it is summer" for a few weeks now, but the cosmos might beg to differ. For the solstice will get solstice-ing on Friday, June 21, and, as is tradition, the historic sky-watching structure up the hill from Los Feliz proper'll give two talks on just what it all means. The first free talk is at local noon, the second free talk arrives at sunset, and you're likely to depart with new knowledge about our planet, our nearest star, and how it all fits together. Also? Hanging out at the ol' GO on any day of the year is as rad as the sun is fiery.
The Scene
What to do, where to go and what to see
Happy 30th, "Field of Dreams": True, this Kevin Costner-starring baseball classic has one of the most quotable lines ever, but let's also give it big ups for capturing that summer feel in a way that few films have. Also? Supernatural sports films are amazing, and this is one of the best of the best. Fathom Events is pitching it back into theaters, on June 18, so find your favorite Iowan, baseball fan, or summer lover and catch it on the big screen, like you may have done back in 1989. And, yes: "If you build it, he will come."
Restaurant anniversaries: Dining out and getting a deal is always fantastic, but if that deal is all about a special occasion for the eatery? Even better. A few places will be feeling that festive spirit this week, with Bob's Big Boy in Burbank offering its famous Hot Fudge Cake for 70 cents, in honor its 70th anniversary, from June 17 through the 27th. And at SAJJ Mediterranean in Rancho Santa Margarita? Guests who dine in will receive "50% off ALL dine-in orders from June 17-30," in honor of the restaurant's first anniversary. Love wraps, pita, hummus? Mmm. Stop in and say "happy 1st year" to the SAJJ staffers.
Copyright FREEL - NBC Local Media