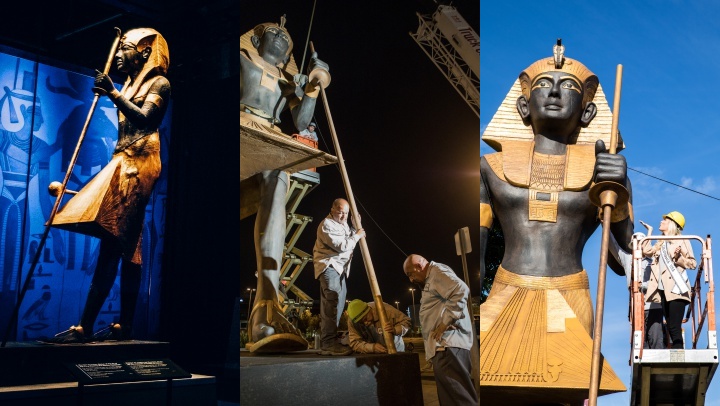 What to Know
Aug. 30-Sept. 27
Free to see
The Farmers Market Plaza at the Original Farmers Market
Trying to name all of the tall sights dotting the mid-city, West Third, and Fairfax District neck o' the LA woods?
That's not too tall of an order, given the area's many sizable icons.
There's the vintage gold cylinder outside the Academy Museum, for starters, and the handsome Art Deco buildings along Wilshire Boulevard also easily spring to mind.
The Scene
What to do, where to go and what to see
As for the clocktowers at the Original Farmers Market?
They're so famous, even their particular chimes are recognizable to locals.
But now there's a new tall wonder in the area, and it happens to be a neighbor to the clocktower found next to the Farmers Market Plaza area.
A very near neighbor, in fact, for a new, three-story replica of the King Tut guardian statue is now on display at the end of the trolley tracks, just steps from the celebrated time piece.
The colossal figure is sure to further stoke "Tutmania," the swirl of excitement around "KING TUT: Treasures from the Golden Pharaoh," which is on view at the California Science Center in Exposition Park through Jan. 6, 2019.
The towering replica is free to see, but see it soon, for the guardian's final day at the Third & Fairfax public market is Thursday, Sept. 27.
The sky-reaching replica, which stands at 32 feet, and weighs two tons, isn't only celebrating the gem-packed exhibition at the CSC; it is also a striking harbinger of Metropolitan Fashion Week.
The guardian "... will serve as a backdrop to a King Tut-inspired opening night and fashion design contest," so make a date to be at the Original Farmers Market on the evening of Sept. 27 to spy Pharaoh-fantastical outfits.
And should you stop by to see the statue at any point during its on-display dates?
There's a sweepstakes, so snap a selfie and post it with the hashtags #KingTutTour and #Sweepstakes. And just maybe win a prize, like tickets to the exhibition.
All of the details, places to post your photo, and such may be found here.
Copyright FREEL - NBC Local Media