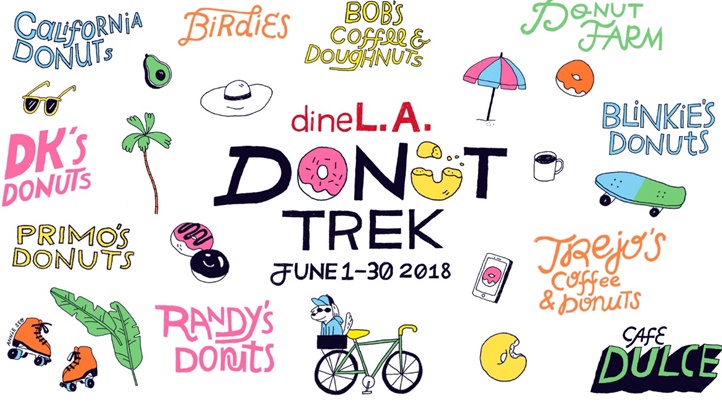 What to Know
June 1-30, 2018
Various doughnut shops
A special Donut Trek goodie'll be for sale at each spot
A month-long project can daunt, especially if you have to organize your photo boxes, or ask a friend to help move stuff over a few weekends, or redo the bathroom, or build a shed.
All worthy life must-dos, for sure, but what if you could devote the month of June to finding, buying, devouring, and then fondly remembering some of Southern California's superstar doughnuts?
We mean, THAT is a month-long project for the memory books. Donut argue with us on that point.
The Scene
What to do, where to go and what to see
Good thing that dineL.A. gets us and our doughnut-craving ways. And if you know the name, which is behind the popular Restaurant Weeks that have popped up around the region over the last decade, then you know dineL.A. is devoted to all good eats, including one of the most famous foodstuffs associated with Los Angeles.
So to celebrate its first ten years, dineL.A. has created Donut Trek, a crumb-covered collect-all-ten to-do that runs from June 1 through 30.
The icing on this event? Donut Trek has put the focus on ten legendary local doughnut shops, shops that every doughnut devotee should try.
But it gets better: There's a special dineL.A. Donut Trek item available for purchase at each shop, throughout the month of June.
At California Donuts in Koreatown? Ask for the Orange Creamsicle Donut. Craving a Maple Bacon Bar? That's at Bob's Coffee & Doughnuts at the Original Farmers Market at Third & Fairfax.
Primo's Donuts, Randy's Donuts, and several other gems are on the list. Oh, and there's a map, too.
Is your favorite there? Crossing our glaze-sticky fingers.
So, sweet-toothers of SoCal: Can you buy and bite into all ten goodies before July arrives? It's a tall order, but maybe no more daunting than combing through those shoeboxes of photos or building a shed.
Yes, you'll need to get to each place on the Donut Trek list, but, if you're serious about your SoCal sweets, shouldn't you school yourself in all of these luscious locations?
And if do you know them, isn't another visit due, all to nosh upon the special Donut Trek doughnuts?
Find every flavor, every doughnut destination, and the flavor of local pride here.
After all, Southern California has long been Doughnut Central, the ultimate in doughnut divinity, a doughnuteriam of doughy delights, the seat of round sweets, and that's the hole, er, whole truth.
Copyright FREEL - NBC Local Media