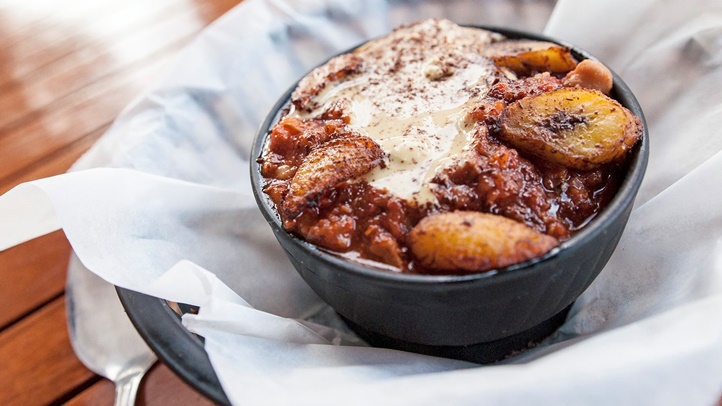 Flip through any food magazine, right around the beginning of fall, and you'll come across not one, not five, but maybe a dozen recipes for various chilis, the kind of tummy-fillers you throw in the Crock-Pot on a crisp Sunday morning as you're waiting on the game, a social visit, or time with a book.
But many of those suggested magazine concoctions have meat as a main ingredient. If that isn't your particular jam, finding a luscious, flavorful stew of tomato-y, deep-toned bigness can be something of a challenge.
There's another sort of challenge to consider, however, and this one involves a vegan chili competition, one that's helmed by five chefs skilled in the creation of hearty, plant-based, bowl-filling dishes.
The Scene
What to do, where to go and what to see
It's the Tony's Darts Away Vegan Chili Cook-Off, an annual autumn eat fest that takes place at the Magnolia Boulevard hangout each October. The 2017 date is Sunday, Oct. 8, and, for ten bucks, you can enter the Burbank bar and sample a quintet of different chilis.
Your sample sizes? They're three ounces each, which'll give you a good sense of what the chefs are going for. The chefs? They hail from Mohawk Bend, Kitchen Mouse, Sixth St. Tavern, PlantCraft, and the Artisanal Brewers Collective.
The event's judges? Honchos from the vegan culinary world, hailing from VegNews and the ranks of our city's lauded chefs.
The beneficiary of the afternoon event? It's the Beagle Freedom Project, woof woof.
You'll want to show by noon on Oct. 8, to make sure you get your tastes in. And, anyway, isn't noon on a Sunday pretty much the unofficial official chili time of the week?
In fact, can we just go ahead and call noon on a Sunday by its other proper name, Chili O'Clock?
After all, that's when many a chili lover has a stew bubbling on the stove or the plug-in pot of their choice.
And if you prefer your rib-sticking stew to be vegan, without any meat but with tons of panache, quality ingredients, and creative zing, a visit to Tony's Darts Away for this yearly competition is just the taste you're craving.
Copyright FREEL - NBC Local Media