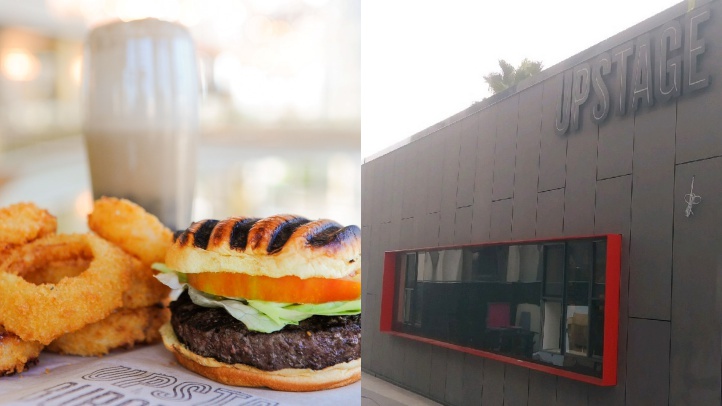 What to Know
Music Center Plaza
Southeast corner near the Dorothy Chandler Pavilion
Burgers, onion rings, floats, beer, more
A large-scale renovation, whether it involves a bathroom, a yard, a business, or even someplace huge, like an airport, is going to take time, patience, more time, more patience, and something to keep everyone's mood humming during what is always an up-down process.
That "something" typically involves food, for no one likes to face a renovation while hangry.
Thus it makes savory sense that, even before the mega, multi-month renovation of Music Center Plaza is complete, a new restaurant has debuted in the space.
The Scene
What to do, where to go and what to see
Upstage Burger is one of the first twinklings of what the freshly re-imagined space will deliver when it is totally completed in the spring of 2019, but you don't need to wait for that date to dig into delicious eats now.
For the new burger shop, which is in a shipping container-esque structure near the southeast corner of the Dorothy Chandler Pavilion, just debuted in late October. That's right: Time, construction, and major renovation waits for no burger.
And you needn't wait either, for the compact eatery, which overlooks Walt Disney Concert Hall at the corner of Grand Avenue and 1st Street, is serving up a made-to-order burger, cheeseburger, the vegetarian Impossible Burger, a hot dog and a crispy chicken sandwich, too.
All of the not-so-pricey offerings have drama-related handles, highlighting their theater-close cred.
Truffle cheese fries, beer-battered onion rings, and other sides round out the offerings.
Call it a "permanent" sort of food truck, if you like, since Upstage Burger has a bit of that vibe, visually. But it isn't going anywhere, and, come the spring of 2019, it will be a part of the fully updated Music Center Plaza.
We'll raise an onion ring, and a cheeseburger, to that.
Copyright FREEL - NBC Local Media