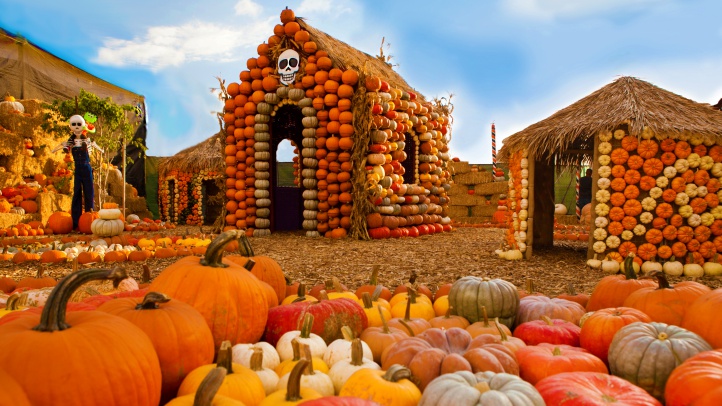 What to Know
Oct. 5-30, 2018
10100 Jefferson Blvd., Culver City
$15 general admission; VIP tickets available
Can something be both homespun and Hollywood, at the very same time?
Those two elements would seem to be at odds with each other, given that "homespun" signifies nostalgic, low-key pleasures and "Hollywood" is all about red carpets and flashing camera bulbs, at least in many minds.
But there is a charming seasonal attraction where those two concepts weave together with style and sweetness, and while the "homespun" part of the story dominates, there is a dash of Tinseltown-style glamor among the gourds.
The Scene
What to do, where to go and what to see
"The gourds" was our giveaway, and if you love carving jack o'lanterns, and you've lived in Southern California at any point in the last 31 years, you surely know Mr. Bones Pumpkin Patch.
It's the squash-laden spread with plentiful pumpkin choices, oodles of cute activities for the kids, and, yes... a VIP area, should a huge movie star stop by with his young'uns for an hour of patch-worthy pursuits.
Which happens pretty frequently at Mr. Bones, actually, making this one of the planet's only pumpkin patches with the occasional paparazzi sighting.
VIP tickets, however, are open to anyone who wants to purchase one, though there are general admission tickets for $15.
The 2018 dates? Pumpkin-out and VIP-up from Oct. 5 through 30.
Admission is required for weekend days, and Friday evenings, though you can enter the patch for free Mondays through Thursdays and on Friday mornings, wheee.
Other purchase-ready choices include activity tickets, an ultimate kid's pass, and an opening weekend special.
The "activity" option correctly suggests that there's lots to do while there, beyond selecting your ideal pumpkin.
A bounce house, a petting zoo, and live entertainment are but three of the choices, so plan to spend some time at the squashy spot. And a Slumberkins pop-up market visits the patch on Oct. 6, the first Sunday of its run.
As mentioned, this is the 31st annual Mr. Bones Pumpkin Patch, which feels Halloween-y, in number, given the date of the spooky holiday. But note that you'll need to pick up your Mr. Bones pumpkin by Oct. 30, the final day of its 2018 run, and not on Halloween proper.
Copyright FREEL - NBC Local Media