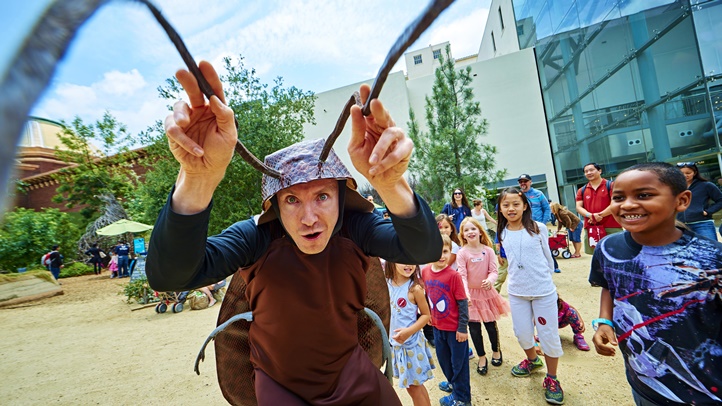 31st Annual Bug Fair: If you've ever called the family outside to the sidewalk to see a mega-ly cool, oh-gosh-look-at-it bug, you're the sort of curious spirit who would dig getting to know a host of crawlies (we won't even add "creepy" to that, because they're so dang cool). The Bug Chef'll be cooking, so you might snack upon something crunchy, and "a variety of exhibitors" will be out with a whole caboodle of wing-major, multi-legged critters. Scurry to the Natural History Museum for the Western Exterminator-sponsored festival on Saturday, May 20 and Sunday, May 21.
AMGEN Tour of California: We're plunk in the middle of Bike Month, so spying a group of cyclists happily rolling along isn't that unusual a sight (nor is it, of course, at any ol' time of the year). But seeing some of the top-ranked competitors on the planet roll into Pasadena, as a part of this mega event, is a bit different. The final stage and big finish is on Saturday, May 20 right in the heart of downtown Pas. Check out the big Lifestyle Festival, too.
East Los Angeles Comic Con: One of the newer comics-focused festivities in the region came together in 2016, thanks to "...a group of life long comic and pop culture fans who grew up and live in East Los Angeles." El Gallo Plaza is the spot, Saturday, May 20 is the date, and cosplay will be an element. If you dig Nostalgic Books and Comics in San Gabriel, then you might know the owner Peter Mellini, who is behind the fan-fun gathering.
The Scene
What to do, where to go and what to see
California Strawberry Festival: There's probably (probably) nothing better than a plain, plump, rosy-hued strawberry, but a strawberry tamale? Or a strawberry funnel cake? Those likely zoom up the amazing-experience scale, too. This two-day fruit-flavorful festival boasts contests, a Strawberryland for Kids, and, yes, a whole host of treats that incorporate the red, green-topped superstar in a host of creative, appetizing ways. Saturday, May 20 and Sunday, May 21
The Desert Cahuilla Birdsingers: Head for Union Station's North Patio at 4 o'clock on Friday, May 19 for a rare chance to hear the "Bird" songs of the Cahuilla, Mojave, and Quechan Nations of Southern California and Arizona. The presentation is free to see, and it also marks the Birdsingers' first appearance at the historical train station. The message behind "Bird," which incorporates voice and movement? It's a beautiful one: "unity and inspiration."
"Underworld" Prop and Costume Auction: If you're a fan of "Evolution," "Rise of the Lycans," "Awakening," and "Blood Wars" turn your eyes upon Premiere Props, which is holding a mondo auction on Saturday, May 20. An animatronic Lycan head mask, a spandex cat suit worn by Selene, and several other pieces from the film will be on the block.
Copyright FREEL - NBC Local Media