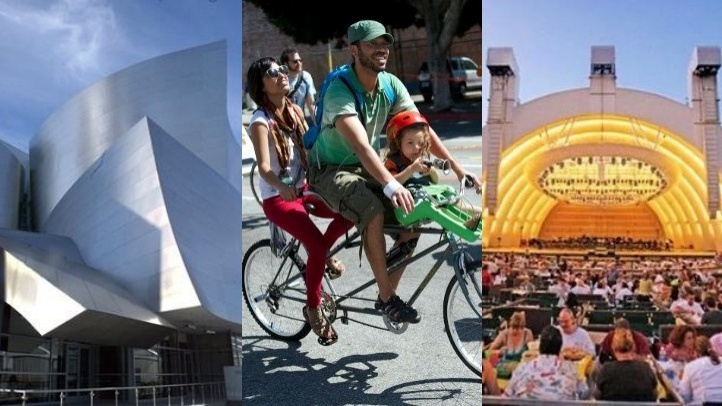 Celebrate LA: Strolling or cycling from downtown to Hollywood on any day of the year would take some time, especially since there's traffic to think about. But what if you could roll or stroll from Walt Disney Concert Hall to the Hollywood Bowl, or nearly, without any vehicles slowing you down? That's happening on Sunday, Sept. 30, all to honor the LA Phil's centennial. Big concerts at several hubs along the way, special happenings, food trucks, and a bevy of amazing to-dos will fill the eight-mile route. Where to see Ozomatli, Dengue Fever, Dustbowl Revival, more? Start here.
Watts Tower Festivals: Southern California is known for its notable music-based bashes, but few have the prestige, the enduring fandom, and the longevity of the pair of parties heading for Watts Tower over the final weekend of September. On Saturday, Sept. 29 its the 37th annual Watts Tower Day of the Drum Festival, which celebrates the moving power of percussive songcraft. And on Sunday, Sept. 30? Return for the 42nd annual Simon Rodia Watts Tower Jazz Festival, a happy day of delightful aural journeys and deep sound flows. Find the full line-ups, and times, right here.
Dark Harbor: The ocean is full of delightful mystery, but some of scares of the shore-close kind grow around the Queen Mary each fall, thanks to this annual Halloween-is-near spectacle. Six mazes, lots of eerie entertainment choices, slider performers, and a special to stay on the reportedly haunted ocean-liner are all on the Dark Harbor docket. Brave up, grab your buddy, and leg it for Long Beach, where creepy characters will haunt the area surrounding the storied ship, through Nov. 2, over several select nights.
The Scene
What to do, where to go and what to see
Dino Fest: If you've ever called upon the Natural History Museum of Los Angeles with a Jurassic-obsessed kid or friend in tow, you've likely encountered, at least over the last decade, the roaming Dinosaur Puppets, those large and lively critters that, spoiler alert, have talented puppeteers inside them. Those puppets are turning ten over the final weekend of September, which just happens to be when the museum will celebrate all things 'saur-related. Join a hands-on activities, hear from paleontologists, and dig into dino-tastic fun, on Sept. 29 and 30.
LA Haunted Hayride opens: Speaking of decade-big anniversaries, this ghoul fest at Griffith Park's Old Zoo is cackling its way into its 10th year, with more under-the-moon monster sightings and sizable scare zones that have both fresh air and plenty of frights. Do you dare venture into the House of Shadows, Purgatory, Trick or Treat, or the hayride that lends this seasonal scream-it-out its very name? Find your ticket and the dastardly date you'd like to attend, pronto. Everything is getting mighty freaky, on select nights, through Oct. 31.
Copyright FREEL - NBC Local Media