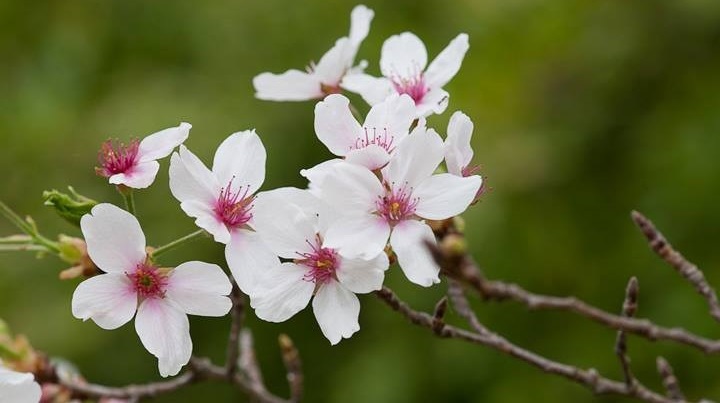 Cherry Blossom Festival: The merry march of California's bursting springtime flowers continues in La Cañada Flintridge, where Descanso Gardens is giving two full and floral days to its in-bloom cherry trees. Cherry blossom walks -- pros on tree topics give background and depth to what you're seeing -- and a koto performance (Japan's beautiful national instrument of course) lend the light-of-heart lark depth and delight. As do flute performances, origami stations, Japanese cuisine, and other earth's-awakening, tree's-ablooming to-dos and tastes. March 12 and 13 are your dates for the tradition-lovely nature party.
World's Largest Blooming Plant: Many people have called historic Sierra Madre home over the decades, and several pets, too. But only one celebrity has made a home in town since 1892, the very same celeb that famously made the "Guinness Book of World Records." It's the mammoth wistaria vine growing in two private backyards, the same vine that goes on view over one day of the year. That day is Sunday, March 13, and there's a street fair, too, full of eats and crafts and tunes. Call it sweet small-town-y stuff with one almost supernatural plant at its heart.
Poppy Time (Just About): So is it all flowers all the time during the second week of March? Well... pretty much, depending on which area you're visiting. The Antelope Valley California Poppy Reserve is reporting, as of March 10, that the "poppies are starting to make their showing and you can see small patches of orange." As with all seasonal shows, the poppies could take off, or not so much, in the next week or two, so planning your Lancaster-close hike takes a bit of timing luck. That luck, though, could lead to quite the quintessential California sight, a hill of sunshine.
The Scene
What to do, where to go and what to see
Festival of the Kite: This wowzer at the Redondo Beach Pier is pretty any year -- and there've been a few years along the way, with the fest celebrating its 42nd in 2016 -- but things should be mighty spectacular on Sunday, March 13. Why? A rain on Friday night is apt to do that whole sky-clearing thing, while spring's-on-the-way breezes have been cameoing around the region. Fly your own kite, or just watch, but either way this yearly beach-close event is free, free, free as a breeze.
Meet the Grunion: We've seen all sorts of animals on land, but hardly ever do we spy an ocean denizen make for the beach, and then leave the beach, all in a short span of time. Turtles do, yes, but so do the grunion, a small and silver fish that makes its debut 'round the Golden State come the springtime. Cabrillo Marine Aquarium in San Pedro hosts a handful of programs explaining this famous phenom, and you can see the sight for yourself. It all revs up, stunningly, on Friday, March 11.
Abbot Kinney Marketplace: Spring is on the near horizon, which means a re-flowering of craft-strong alfresco markets around the region. This artisan-filled event includes around 50 to 60 vendors, all purveying in handmade/unique/wearable/displayable goodness. Are there eats for sale? Is this a quirky spot to fill your BFF's Easter basket? For sure, with soaps and jewelry and such. Is the Saturday, March 12 marketplace free? 100% yes.
Copyright FREEL - NBC Local Media