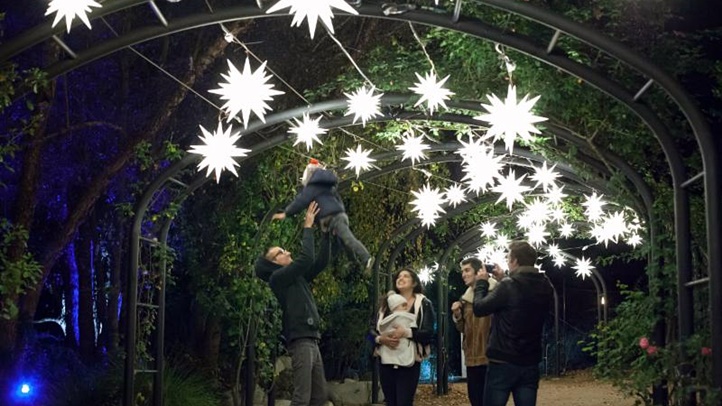 A Shimmery Coast Live Oak, lit grandly and mysteriously from below. Tulips in an array of surreal colors. And an into-the-forest walkway illuminated by beautiful beams. Such is the magic at Enchanted: Forest of Light, the nighttime experience that debuted at Descanso Gardens in La Cañada Flintridge in 2016. The much-in-demand event has returned for 2017, and it'll glimmer, rain or dry skies, through Sunday, Jan. 7, 2018. An advance ticket is a must, as is bringing a jacket or more. Opening date? Savor the shimmer on Sunday, Nov. 19.
Bai Holiday Ice Rink at Pershing Square: Movies have a way of placing outdoor rinks next to the most architecturally glorious buildings. Be not jealous, if you long to twirl in such a cinematic spot, for there's one downtown, next to the Millennium Biltmore LA, and it debuted on Nov. 16. How long will it be around? Long: Two months or so, with an end date of Jan. 15, 2018. "Aladdin" nights, a Polar Bear Skate on New Year's Day, and more frosty high jinks are ahead.
LA Zoo Lights open: The Los Angeles Zoo and Botanical Gardens has a way of growing a little quiet when the stars start to twinkle. Many of the animals crawl under the proverbial covers, and the trees and walkways stay shadowy. But once a year, come late November, a glimmer descends upon the animal park, and several special sparkly activities, too. Everything illuminates for the first time in 2017 on Friday, Nov. 17 and visitors should keep watch for the "dynamic, musical holiday tree experience" and "a reimagined water show," plus lots more. The final day is Sunday, Jan. 7, 2018.
The Scene
What to do, where to go and what to see
Magic of Lights opens: So you and your kin like to throw on your comfies and go see what the neighbors have done in terms of elf-based, reindeer-adorable decorations? This brand-new festive scene in Fontana could be for you. The price to get in is a per-car kind of deal, and "over 400 LED displays and animations" will line the O'Reilly Auto Parts Fan Zone section of the Auto Club Speedway. Nov. 17 is opening day, it all blinks off on New Year's Eve, and you'll want to show on a Thursday through Sunday, the event's open days.
Noon to Midnight: How much new music can you pour into your sound-loving soul over the course of several hours? We hope the answer is "more than a lot," for this mega celebration at Walt Disney Concert Hall is on the big side (the name of the gathering tells the multi-hour story). The date is Saturday, Nov. 18, LA Signal Lab, USC Percussion Group, and the wulf are just a few of the music-makers, and the cost is ten bucks, as in a 1 and a 0. Plus there are food trucks nearby, and brews, too, to keep your sound-loving soul in the sustenance and a glass of suds. So do bring money for that, in addition to your tenner.
Copyright FREEL - NBC Local Media