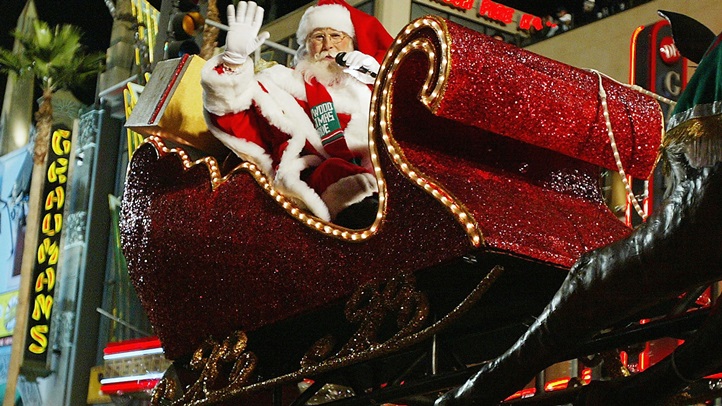 Hollywood Christmas Parade: So many starry spectacles of the cinematic sort show up on Hollywood Boulevard, in front of the TCL Chinese Theatre, but this venerable procession has a knack for outshining them all. A cheery cameo by Santa Claus is a big reason, as are all the stars who wave from convertibles. Horses, floats, balloons, more stars, and Ms. Olivia Newton-John, the 2016 Grand Marshal, bring the gingerbread-cute razzmatazz to Tinseltown. Be on Hollywood, or Sunset Boulevard, on the afternoon/evening of Sunday, Nov. 27. Street Closure information.
Festival of Lights: Will people on the Mars — scratch that, Jupiter — be able to see Riverside from way across the solar system starting on Friday night, Nov. 25? That's when 4,500,000 bulbs begin to do their holidaytime twinkling thing at the Mission Inn Hotel & Spa. There's some ceremony to the switch-flipping, but if you can't make opening night, know that the brilliant light display will remain on, each evening, through the holidays. Adding to the spirit: Hundreds of animatronic figures, carolers, and more merriment throughout the landmark.
Enchanted: Forest of Light: Southern California is a center of art, but not all pieces are found on museum walls. Our amazing flora, and how plants are often lit after sundown, give LA much of its texture, and Descanso Gardens is about to go the full (and festive) distance on this topic. There are "10 distinct lighting displays" lending color and illumination to the old oaks and fresh flowers of the La Cañada Flintridge garden, displays that will be on view from Nov. 25 through Jan. 8.
The Scene
What to do, where to go and what to see
Three Stooges Saturday: If you're sitting at the Alex Theatre in Glendale, and it is two days after Thanksgiving, chances are you're laughing along with some classic old-timey vaudeville slapstick. The Alex Film Society is behind this annual event, which offers a matinee and evening program. Is it not the holidays without some Curly and Moe and Larry in your life? Ticket-up now for the Nov. 26 nyuk-nyuk-tacular.
Small Business Saturday: So you're looking for something sparkly and/or warm and/or humorous and/or yummy for your boss and/or mom and/or cousin and/or neighbor. Go local on Saturday, Nov. 26 by calling upon a store in your neighborhood, the one that's been there forever and knows customers by name. A number of brick-and-mortars'll have special to-dos on, but even if your go-to does not, lending some local love to a longtime business of the area helps strengthen your neighborhood's neighborliness over time.
Copyright FREEL - NBC Local Media