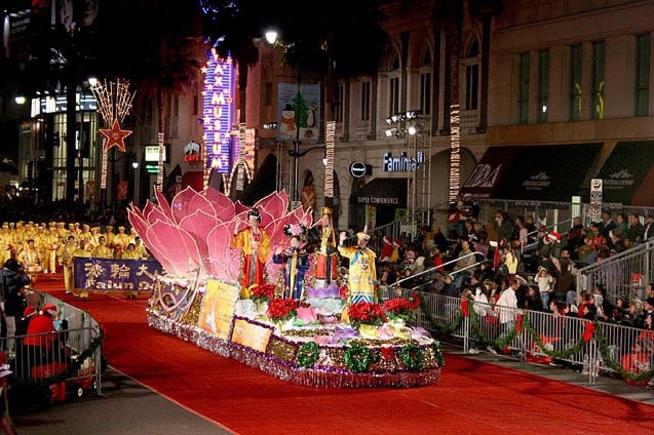 HOLLYWOOD CHRISTMAS PARADE: It's gone through some name changes over the decades, and a few ups and downs, too, but our annual Thanksgiving Week roll down Hollywood Boulevard (and Sunset) is still known for its waving, be-scarfed celebrities and Santa. The parade is 81 this year -- meaning it is just about as old as the Oscars -- and Joe Mantegna is Grand Marshal. It all gets merry on Sunday, Nov. 25 at 6 p.m.
FESTIVAL OF LIGHTS: There are many hotels and restaurants stringing up the blinking bulbs right about now, but few have the sheer wattage of Riverside's own Mission Inn. The landmark hotel's annual twinkle gets going with a grand switch-flipping on Friday, Nov. 23, but if you can't make it for that event, the lights'll be on through the holidays. And we do mean lights; there are over 3.6 million in all dotting the historic property. Caroling and other convivialities are part of the scene, too.
SECOND CITY'S "A CHRISTMAS CAROL": When the subtitle of this holly-strewn classic is listed as "Twist Your Dickens," you can bet tomfoolery will be afoot. But the comedy troupe will be cranking up the funny with special guest stars and such during its Kirk Douglas Theatre run. Scrooge, prepare yourself: There shall be no kid gloves, and the mistletoe is likely to be quite thorny. Opens Saturday, Nov. 24
The Scene
What to do, where to go and what to see
THE SCIENCE OF GINGERBREAD: Every time this Discovery Science Center exhibit comes back around we have two thoughts. One? Why can't more museums and institutions focus on the fascinating aspects of everyday products and foods? And two? Mmmm. We do like a spicy cookie, and we like knowing how it all comes together. Show opens at the Santa Ana kid-friendly spot on Friday, Nov. 23.
OLD PASADENA HOLIDAY CELEBRATION: Once the Crown City lights the lights and gets to the business of cheery sing-a-longs and toy donations, one can call Christmas officially begun. And that's exactly what will happen on Friday, Nov. 23 in the heart of old Pas. Oh, there's an area packed with 20 tons of snow, too. Majorly merry doings, Pasadena. Majorly merry.
Copyright FREEL - NBC Local Media