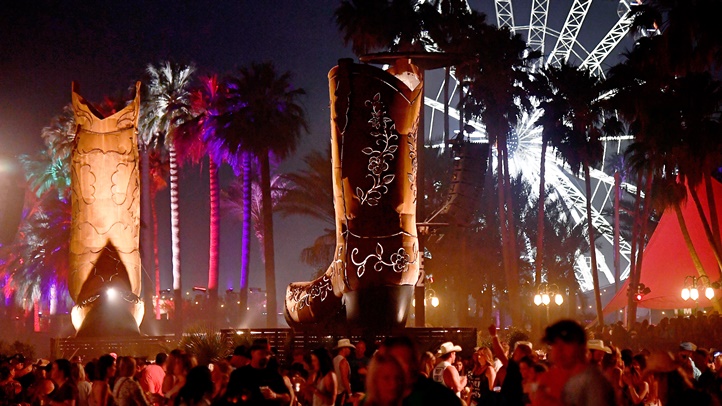 Stagecoach Festival: "Y'all" has found a lot of traction in memes in recently months, but it is an iconic, multi-meaning catchphrase that sounds sweetest when it is sung. And the y'all shall be mighty, and mighty starry, at this three-day hoedown, which is trotting into Coachella Valley as April winds down. Who's donning the boots, the stylish ten gallons, and the guitar straps for the music, arts, and hobnob-it-up country festival? Florida Georgia Line, Keith Urban, and Garth Brooks are the headliners, but the wattage shall be bright from April 27 through 29, with Jake Owens, Kacey Musgraves, Dwight Yoakum, and other big names appearing.
Fiesta Broadway: Are you ready for Cinco? Then you just might be ready for this large-scale celebration, one that takes over several blocks of downtown Los Angeles each spring, typically a few days ahead of the May 5 holiday. The 2018 date is Sunday, April 29, the mariachis shall be out, and major bands, and dance troupes, too, for what's called "the largest Cinco de Mayo festival in the country." Details? You'll want them, and you'll want to eye the street closures, too, before going DTLA.
Skirball Puppet Festival: If you've ever pulled a random sock out the dryer, and you didn't create an impromptu puppet, there on the spot, well, it is time to review why not. For puppetry is among the oldest of art forms, a creative and colorful way to tell tales to both adults and children, and the Skirball Cultural Center celebrates it, with cheer and fun, each spring. The Sunday, April 29 festivity'll include giant puppets, wee puppets, the chance to "design your very own puppet," and several other doings of a delightful, levitate-the-spirit nature. It's $12; info is here.
The Scene
What to do, where to go and what to see
Dig Animals... whether they're found in the air, on land, or in the water? Yep, you do, surely. So join the final 2018 of the Great LA River Cleanup, on Saturday, April 28, participate in the City Nature Challenge all weekend long, find great products and ideas for your BFF at America's Pet Expo in Costa Mesa from April 27-29, watch the annual Sheep Shearing at the Los Angeles Zoo and Botanical Gardens on April 28, or visit the Aquarium of the Pacific on April 28 and 29 for its important Urban Ocean Festival, which looks at how human practices can impact the water that's just beyond our beaches.
Taste of the Eastside: Hello, fine weather, hello, sunbeams, hello, trying tidbits and vittles and beverages from a whole line-up of terrific eateries from Echo Park, Silver Lake, and other east-y points of the city. The date for all of this localized deliciousness is Sunday, April 29, the spot is the Los Angeles River Center and Gardens, and several spots, including Pazzo Gelato, Mohawk Bend, Cliff's Edge, and other area favorites will show. And "100% of our proceeds go to non-profits," which is fabulous. Read more.
Copyright FREEL - NBC Local Media