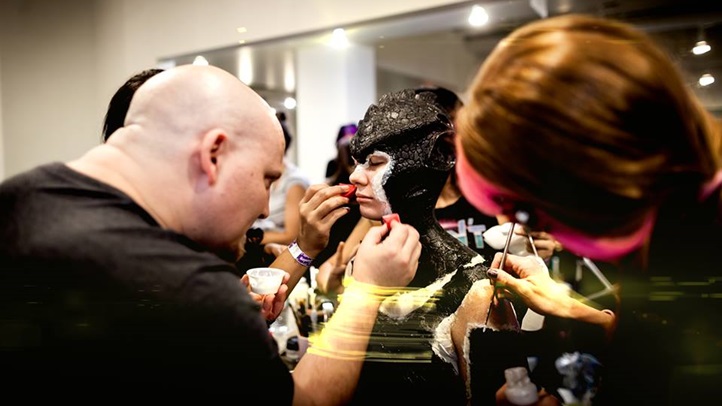 What to Know
ScareLA
Los Angeles Convention Center
Aug. 25 and 26
ScareLA Halloween Convention: Need a reason to start drawing up the plans for your October yard haunt? Or the incredible costume you intend to wear at every fall party this year? Best haunt the Los Angeles Convention Center during this huge-and-haunty hullabaloo, a fright festival that has promised to turn the lights out. Well, or down, at least, making the monsters inside a bit harder to detect. Cool vendors, peeks at the theme park Halloween events, and more macabre-o-sity will fill the DTLA destination on Saturday, Aug. 25 and Sunday, Aug. 26. Let the Summerween shenanigans commence!
Muse 'Til Midnight: A stylish summer Saturday party that'll have you seeing in more than one dimension? That's the join-in vibe at the Los Angeles County Museum of Art, which is throwing its annual 18+ Summer After-Hours Party on Saturday, Aug. 25. "LACMA in 3D" is the theme, thanks to the current exhibit on view at the Miracle Mile museum, "3D: Double Vision." DUBLAB will be there, helming sound installations (and visual treats, too), while tunes and performances will also add art and spark. If you're over 21, a complimentary "signature beverage" on behalf of Showtime is part of your ticket.
Cardboard Yacht Regatta: Cheer on hearty sailors in their homemade boats as they attempt to cross the not-small Annenberg Community Swimming Pool in yachts created out of nothing but cardboard and duct tape. How long before wet cardboard gives out? How well will the tape hold? Thrills will be had, by both the duos operating the small vessels and those standing nearby. Adding to the charm? The boats often have themes, so ferreting out the vibe of each wee ship is part of the fun. Be at the historic and splash-worthy property on Saturday evening, Aug. 25.
The Scene
What to do, where to go and what to see
"We're All Mad Here": Garbing up in your best Caterpillar costume? Or your favorite Alice attire? Then making for Muzeo in Anaheim for a special late-afternoon tea steeped in fantastical literature and swirls of imagination? That's quite possible, if you wave a wand and nab a ticket to the Saturday, Aug. 25 event (yes, waving a wand means buying one, of course). The tea event is part of the museum's current exhibit, "Ghost Stories and Fairy Tales," a show which only furthers the fantasy nature of the teaful to-do. Tickets, though, are going as fast as a rabbit runs.
Harry Potter Roller Skating Night: Speaking of fantastical literature, and swirls of imagination, and wearing a favorite costume out on the evening of Saturday, Aug. 25, there is the delight at the Moonlight Rollerway in Glendale. All sorts of wizards will be out, in their Hufflepuff and Ravenclaw robes, but if you want to dress as a dragon, or Dobby, and not as a Hogwarts student, please do so. This is the 7th and final Harry Potter skate night, so best not miss it. For soon it'll wisp away, like the last mist of a just-cast spell.
Copyright FREEL - NBC Local Media