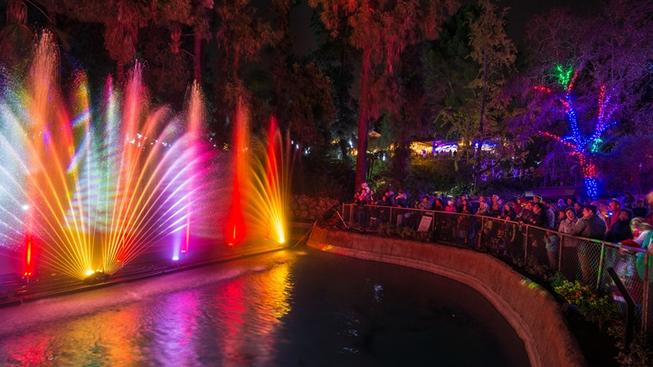 LA Zoo Lights: It's a fact that, quite typically, we'll visit a zoo when the sun is out, for many reasons, but a big one is, well, the animals are awake. But nighttime events can also shimmer at animal parks, after the residents are asleep, and this one is one of the majors of the merriest season. Prepare to stroll by "... giant illuminated snowflakes, a disco ball forest," and several other sights that are both fantastical and/or inspired by the natural world. Opening night is Nov. 16, and it all twinkles right through to Jan. 6, 2019 (closed Nov. 22, Dec. 24 and 25).
The Great Los Angeles Walk: Sauntering from downtown to the Pacific Ocean? That's going to take some time, several hours, in fact, but what if you could join other Southern Californians on the adventure, locals who love know more about our story-packed, place-terrific city, one block at a time? You can, for free, on Saturday, Nov. 17, when the 13th version of this come-together walk takes place. It all begins at Pershing Square, and 6th Street will be the focus, in memory of food writer Jonathan Gold. Details.
Enchanted: Forest of Light: Nature is perfection, it is often and accurately said, but adding something a little zazzy to a tree-filled scene, something that quietly changes the look of the setting, though not permanently, can inspire a person to regard our leafy world with fresh eyes. Venture to Descanso Gardens, in La Cañada Flintridge, for this after-sundown treat, one that boasts a spread of glowing tulip, "trees aglow" with a variety of saturated lights in a host of hues, and more presentations of a pretty and ethereal character. Tickets are available for the nighttime dazzlement, which sparkles from Nov. 18 through Jan. 6.
The Scene
What to do, where to go and what to see
Free Festival of Flight: Hurry, hurry, hurry faster. Is that all you seem to do once you're at an airport? And, if so, do you ever crave extra time, even a few minutes, to admire the great flying machines that have a way of congregating around tarmacs? Here's a way to spend more time, and get closer, to such wonders: Attend this annual wing-laden lark at Long Beach Airport. In addition to the real planes on display, there shall be entertainment, food trucks, and more to see at the Nov. 17 plane party.
Valley Relics Museum Grand Opening: So you grew up in the San Fernando Valley, and recall so many retro signs and sights. Where to see a bunch of those, on beautiful display, along with photos, clothes, bikes, and oodles artifacts representing the area's semi-recent past? At this place, a wicked-cool repository for the SFV's collective mid-to-late-20th century memories. The museum had a smaller spot in Chatsworth, but a move to the Van Nuys Airport means, yes, lots more room for lots more memorabilia. Scope the new spot on Nov. 17.
Copyright FREEL - NBC Local Media