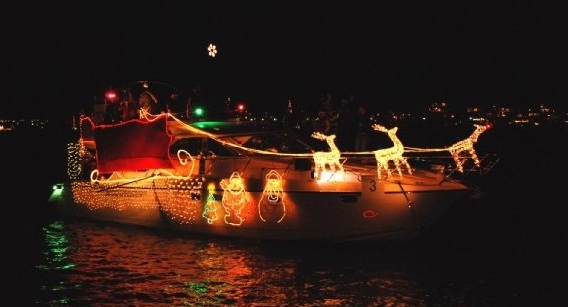 MARINA DEL REY'S 50TH BOAT PARADE: It must be the holidays in Southern California when people in bikinis dance atop sparkly boats after nightfall. We tease, a little; most people are warmly attired as they sail their glowing, highly decorated vessels for applause and kudos. There are several good viewing spots for the Saturday, Dec. 8 parade, including Fisherman's Village and Burton Chace Park. And, truly, the season in SoCal only starts after the first lighted boat parade has taken to the waters.
STROLLING STREETS CELEBRATE: Just about every December weekend brings another thoroughfare or stretch where businesses are banding together to put out cookies and good deals for lookie-loos and shoppers. Three nice ones are just ahead: vintage-sweet Fourth Street in Long Beach hosts its open house on Saturday, Dec. 8; Santa Monica's Montana Avenue strolls on Friday, Dec. 7; and food trucks and more will show at La Brea Avenue near First Street on Saturday, Dec. 8.
RENEGADE CRAFT FAIR: This traveling indie items-and-such festival visits some pretty cool places -- think London, Austin, and New York -- and of course our very own cool place. It's landing at LA State Historic Park on Saturday, Dec. 8 and Sunday, Dec. 9. Food trucks, tunes, DIY to-dos, and things to buy that are very good and giftable will be in the mix. Don't we have a bevy of excellent indie craft opportunities now 'round these parts? Shop local movement, you're looking quite healthy indeed.
The Scene
What to do, where to go and what to see
GRAPHIC DESIGN FAMILY DAY: A lot of art-focused days for kids are fairly general. That's a great thing, and we're certainly applauding it where we see it. But this free Hammer day has a more specific focus -- think of the poster and typeset corner of the artistic spectrum. Graphic design isn't something that's often taught to young'uns, especially in a museum setting -- so, yeah, this feels fresh. Sunday, Dec. 9.
SANTACON: It's a bit notorious, it's a bit high-jinks-y, and it is definitely for the grown-ups. It's the annual Kris Kringle-attired flash mob that roams the lanes and pubs of our cities, looking to live it up and raise a glass or two. Even if you don't join, you're likely to see roaming packs of red-suited revelers if you're out in any particularly public spots on Saturday, Dec. 8. Oh, and LA is just one of dozens of cities around the world that is set to be be-Santa'd over the coming days. Ho ho ho.
Copyright FREEL - NBC Local Media