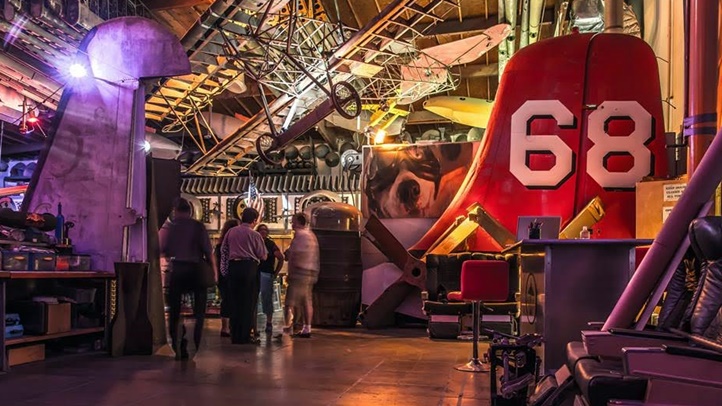 Obscura Day: If you find yourself driving around our vast spread of peopledom while saying, inside your head, "hmm, I've always wondered about that place/building/landmark over there," this is the day devoted to digging deeper into unusual, quirky, and historical spots that give SoCal lots of flavor. The Atlas Obscura society will venture out on Saturday, May 6 to LA's old zoo, the International Printing Museum, MotoArt (home to "high-end aviation art"), and the lost graveyards of Los Angeles. You can't join every tour, and so many tempt. Best pick now. Side note? This is happening at cities far beyond our own, too.
Cinco de Mayo: True, the fifth day of May is on Friday, but the revelries will extend into the weekend, depending upon which direction you glance in. Lucha VaVOOM will have a trio of masked wrestling extravaganzas through Saturday, May 6, while the Citadel Outlets will feature music and dance on both May 6 and 7. On Cinco itself? Olvera Street is a popular draw, and bet a lot of 21-and-over holiday people will head for Hecho in LA: Taco Madness at nearby La Plaza de Culturas y Artes on the evening of May 5. Viva Cinco de Mayo!
Free Comic Book Day: Affection for local comic shops, the kind of shops where hanging out and chatting with the owner is not only welcomed but encouraged, runs through the hearts of oodles of pop culture devotees. The chance to celebrate the shops, and score a cool, gratis, pay-nothing, keep-your-wallet-stowed comic book is the cherry on top of this superhero-sweet, fantasy-flavored Sunday. What's the date? It's Saturday, May 6, and you'll want to find out if your regular haunt is participating.
The Scene
What to do, where to go and what to see
Bird LA Day: If you're swept away by "LA amazing biodiversity" pretty much every time you set foot outside of your front door — yes, swept away — then joining an outing devoted to a large chirpy, singy, feather-flapping swath of that amazing biodiversity surely appeals. This delightful, learn-more, delight-more happening has roots with the National Audubon Society and a host of to-dos, from "a pop-picnic" to "a beginner bird walk." Have your binocs? Your comfie shoes? Your wonder? Then set out, staring up, on Saturday, May 6.
Happy 90th, Highland Bowl: One of the city's oldest alley-laden settings is turning 90, and, to celebrate, it is pricing bowling at $19.33 (an homage to The 1933 Group, which oversees the vintage venue). The reveleries begin at 11 a.m., if you're a daytime kind of partier, and special happenings will fill the atmospheric space. 'Tis the season for quite a number of SoCal spots to turn 90 — hello, TCL Chinese Theatre — and if that's your jam, then make for Highland Park.
Copyright FREEL - NBC Local Media