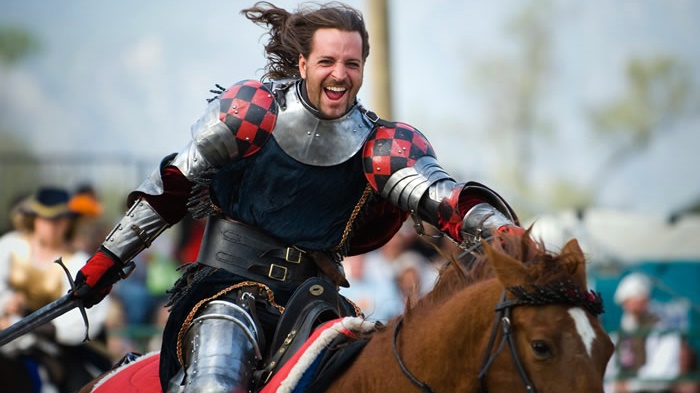 Original Renaissance Pleasure Faire opens: If you haven't been practicing your bard-style witticisms, your queenly curtsies, your turkey leg-gnawing prowess, your pub crawl techniques, your "harks" and your "huzzahs," well, dear tights-wearing, ruff-rocking person, you better get on it, at once. For this multi-weekend happening is trotting back into the Santa Fe Dam Recreation Area in Irwindale beginning on Saturday, April 7, and it is bringing with it banners, jests, the occasional bawdy song, costumes, and a cartload of theme weekends. Ye olde tickets? Ye olde this way.
Brewery ArtWalk: Have you been to "... the world's largest art complex," the one in the clutch of historic buildings, the one just off the 5? Then you know that many artists call it home, that they work there, that they show their paintings and sculptures there, and the chance to stroll through their studios, and occasionally their apartments, to eye their creative output is a rare and lovely one. And a free one, too. Spend a day enjoying a lot of amazing and interesting work, on April 7 and 8, at this much-loved spring/fall art-ravaganza.
Explore JPL Ticket Day Arrives: So what's one of the hottest days in town, hot like a forming star, a day that isn't actually an event but rather a day devoted to tickets for the event? It's when tickets become available to the in-demand open house at the Jet Propulsion Laboratory in Pasadena. That weekend-long happening is on June 9 and 10 in 2018, but you can reserve your ticket (and four more, for a total of five) beginning at 9 a.m. on Saturday, April 7. True story: These tickets will go, for just about everyone wants a closer look at rovers and nifty JPL science things (which you'll learn the actual names of, as you should, when you go).
The Scene
What to do, where to go and what to see
Santa Anita Derby: One of the biggest racing spectaculars on the calendar clip-clops into the landmark Arcadia track on Saturday, April 7, but when you're not watching the action on the oval, be sure to take in the Fashion & Hat Contest. Participants go all out with the equestrian themes, and there are big prizes, too. Want to participate? It is free to sign up, and there are a few things to note, before you strut your sartorial stuff at one of Santa Anita Park's most fashion-forward events of the year.
The Silent PLAY Experiment: So many immersive events of the visual sort have blossomed around town in recent years, from The Museum of Ice Cream to The Museum of Selfies. Consider this pop-up DTLA to-do, which romps over the first two weekends in April, to be a different take on the experiential, interactive happening "... by making audience members the performers." That's right, you're one of the players inside this scene, not a bystander or an onlooker, and the theme is play, as the name suggests. Where will interactive experiences go next, after the recent run of outlandishly thematic walk-through spaces? Click.
Copyright FREEL - NBC Local Media