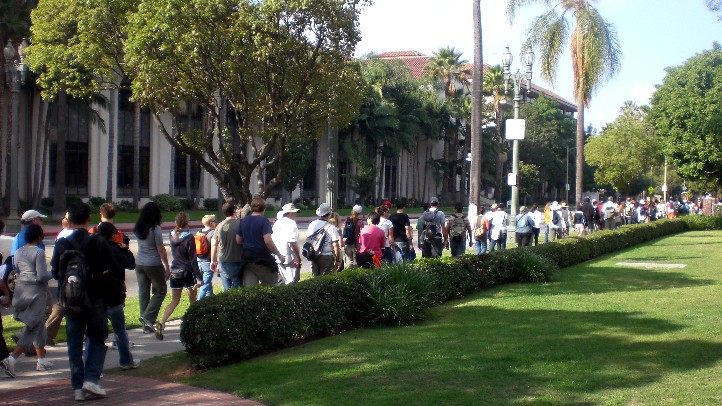 THE GREAT LOS ANGELES WALK: It may be a little drizzly for Mike Schneider's annual come-one-come-all and walk several miles from downtown to the ocean affair, but it has been rainy before. That doesn't stop the throngs of happy LA lovers from joining up, en masse, and taking to our car-mad city on foot. The starting point for this year's strut is Walt Disney Concert Hall, the end point is the Pacific, and you'll spy a lot of Santa Monica Boulevard along the way. It's free, of course, and full of local pride. Saturday, Nov. 17.
SKI DAZZLE: If we ran a convention that was somehow tied to a weather theme, one of our main fears would be the weather being the opposite over the run of our event. For example, a mega con like Ski Dazzle, which will be at LACC through Sunday, Nov. 18, is all about the cold. Lucky for the Ski Dazzlers that the weather has gone brrrr-y. Find your gear, resort info, demos, and more at this all-things-mountain gathering.
DOWNTOWN ON ICE: It's true that seasonal rinks have proliferated over the last few years, but we'll always hold an icy spot in our heart for the Pershing Square entry, which is gliding into its opening weekend. Why do we like it so much? It's so cinematic. The rink is in the heart of downtown, meaning that the big buildings all around the rink are lit up at night. Please. That's *so* movie. Rink's open now through Jan. 21.
The Scene
What to do, where to go and what to see
CHILL DEBUTS: Across town -- well, several towns, actually -- another rink is set to debut. It's year one for the Queen Mary's winter entry, but the Long Beach ocean-liner is offering a few extras, namely a walk-through ice sculpture area. Santa's in the house, too, and there will be tubing. Oh, and right: There's an ice-sculpture Queen Mary that kids can slide down? What? Amazing. Through Jan. 6.
UNIVERSAL AND THE '80s: Have you seen the meme going around about "Back to the Future"? That if Marty McFly time-traveled back the same distance as he did in the movie, only from now, he'd go back to 1982. Food for thought. The Chinese Theatre, in celebration of Universal's 100th, is showing a few '80s classics, like "Future." The run opens on Friday, Nov. 16.
Copyright FREEL - NBC Local Media