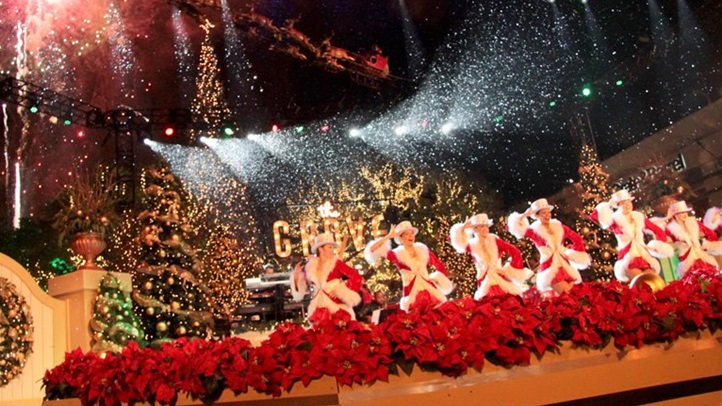 The Grove Christmas: The Mid-City extravaganza used to be a nudge closer to Thanksgiving, but the mega-wattage party is starting a week earlier these days, though the star appearances, Top Hat dancers, Santa Claus cameo, and lighting of the talllll tree all remains hallmarks of the over-the-top, in-all-the-ways occasion. Seth McFarlane will host in 2015, Meghan Trainor and Katharine McPhee will perform, and a 70-piece orchestra shall lend the stirring sounds. Oh, and there's a fireworks finale, too. Date? Saturday, Nov. 14 at 7 o'clock. As always, arrive earlier than you think you should. Actually, even earlier than that. Even earlier.
Holidays at Disneyland Resort Open: Where do you go first upon walking into the world's best-known theme park during the yuletid? The huge Christmas tree on Main Street, the Candy Kitchen (to buy a handmade candy cane), or it's a small world, which is lit by what seems like a billion frillion lights? There are choices to make, but know that those iconic toy soldiers are back, as they are each year, in the special Christmas parade, that the bows and lights are out in full force, and the Haunted Mansion still has its Jack Skellington costume on, eek. Nov. 13 through Jan. 6
Holiday Ice Rink's First Weekend: You may hold out to see Snoopy skate at Pershing Square, as he does each year, or for the big broomball game, or for the polar-themed skate on New Year's Day, but there's no denying the draw of this downtown ice rink. It's open daily, but a number of special happenings, including DJ nights and a Winter Holiday Festival, up the festive factor by a whole bunch. Plus, who gets to stare up at skyscrapers as they spin? Not many skaters, is the answer. It's the big city meets winter recreation, and it's on through Jan. 18.
The Scene
What to do, where to go and what to see
Barnsdall Art Center Holiday Art Sale: 'Tis the shoppiest season of the year, and many a local maker of things -- jewelry, pottery, prints, wearables, and such -- will be out selling their interesting and one-of-a-kind-y wares at spots all over the region. This sale, a fundraiser for the center, includes pieces made by the instructors and students. Have you often thought about taking a class at the art hub high on the hill in Hollywood? This is a great way to see what people are doing, buy something, and give support and cheer, all at once. Sunday, Nov. 15
"Friday the 13th": Not one but at least two cinemas are spending Friday the 13th of November screening a film by the same name. Surely you've heard of it? We josh, er, Jason, as practically everyone knows this iconic screamfest. New Beverly Cinema is showing all eight "Friday the 13th" outings all night long (it's sold out, but standby tickets are a very slight possibility) while the TCL Chinese 6 Theatres has got the fright film, too. Did you know, when you first saw the first film over three decades ago, you'd have the chance to revisit it on most Friday the 13ths for, well, forever?
Copyright FREEL - NBC Local Media