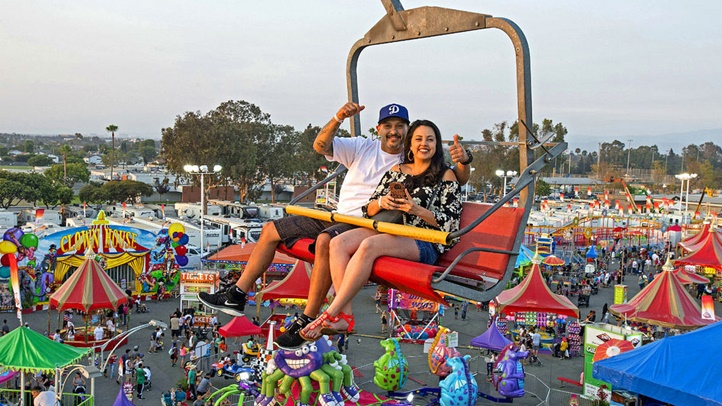 OC Fair opens: Ride-packed days and terrific, music-filled nights? Call them a true July-into-August tradition 'round Costa Mesa. And that tradition returns, on Friday, July 13, for a month-long run, with a wrap date of Aug. 12 (note that the fair is open on select dates). What to expect at the 2018 extravaganza? Offbeat foods — spaghetti doughnuts and mermaid floats are new — and concert appearances by Toto, Kool & the Gang, and Willie Nelson & Family are super big deals, but so are all of those rides, blue-ribbon craft displays, and the cute pigs at Centennial Farm. Squeal.
Colorado Street Bridge party: Celebrating an iconic structure doesn't always happen at the structure itself, especially if it is a bridge that cars drive across. But the Colorado Street Bridge takes a few hours off from vehicular traffic each year, to welcome those on foot for a history-fun festivity presented by Pasadena Heritage. An advance ticket is $20, or you can buy on one there for $25, and the to-dos? Think "a night of music, dancing, vintage cars, children's activities, beverages, and food and more!" The whole span-tastic shebang begins at 6 p.m. on Saturday, July 14.
dineLA Restaurant Week opens: So you spent a little too much on sparklers and ice cream at your holiday bash last week? But you still have a hankering to eat out, try new places, and maybe return to a favorite café? The mondo, across-the-region deal-tacular can help. Look for multi-course prix fixe menus at over 300 Southern California restaurants, restaurants that cover the gourmand-pleasing gamut (so, yeah, think pizza, Thai, Mexican, vegetarian, everything, or thereabouts). The dates are pleasing, too: July 13 through 27, 2018. Yum and yum.
The Scene
What to do, where to go and what to see
38th Lotus Festival: There are few lovelier sights around this neck of the megalopolis-huge woods than a flower opening its perfectly pinky petals at Echo Park Lake. If you dig the Julytime lotus display at the historic park, and the wonderful cultural celebration that happens adjacent to the water, be there on Saturday, July 14 and Sunday, July 15 to soak in the splendor. A Chinese Pavilion, a tea house and ceremony, dragon boat races, and several other glorious goings-on are on the flowery schedule. Each day starts at noon and ends at the evening-soft hour of 9 p.m.
Union Station Summer Train Festival: If you're never without your engineer's hat, and your kid is constantly choo-choo-ing trains across the carpet, then you best both lay tracks for Union Station, where this free celebration is taking place on Saturday, July 14. A trio of vintage Zephyrs will be on view, and The Utah, a "(v)intage parlor café-lounge car from American Railway Explorer," and several other things worth blowing the ol' train whistle over. Plus? There shall be kid crafts, a train-themed selfie area, and other train-tastic doings. It's all chugga-chugga-ing from 10 in the morning through to 5 that afternoon.
Copyright FREEL - NBC Local Media