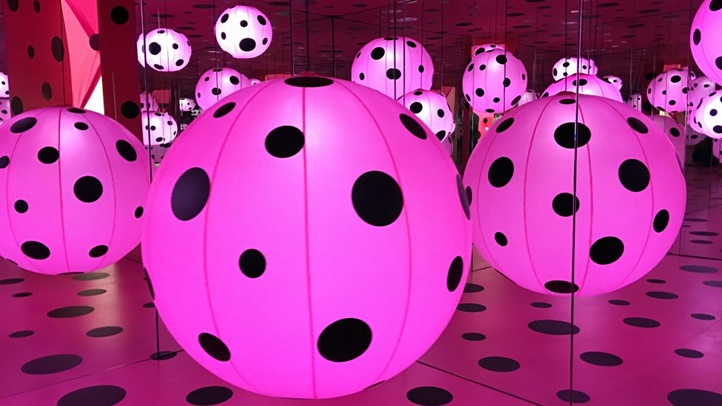 Yayoi Kusama's "Infinity Mirrors" Exhibition: The first round of tickets released for this much (much much MUCH) buzzed-about show at The Broad? They went in a jiffy. The second round of tickets? In half a jiffy, or practically. But there will be daily stand-by tickets, Tuesdays through Sundays, for those fans of whimsy, of surreal spaces, and of art that feels as big, sparkly, and as generous as the universe itself. Ready to enter wee rooms that look as though they have no beginning nor end? "Infinity Mirrors" glimmers from Oct. 21 through New Year's Day, 2018.
P-22 Day Festival: If you ever gaze at the hills surrounding Los Angeles and wonder what our most celebrated mountain lion is up to, here's your party, in one of the cougar's favorite roaming grounds: Griffith Park. Roam your way to Shane's Inspiration Universal Playground from 11 a.m to 4 p.m. on Oct. 22 for a whole caboodle of cougar-cool activities, from dances to live music to learning more about our urban wildlife. The free event will also feature a photo booth so P-22ers — fans of the puma — can snap a photo with his likeness.
Strut Your Mutt: Have you and your hound been wanting to work on something meaningful together? Not like a puzzle or craft project, though those are way cool. Here's your chance to unite and walk side-by-side for other tail-waggers in need, among lots of other pups and people. It's all strutting at Exposition Park for much of the afternoon on Saturday, Oct. 21. Your fundraising can help support Best Friends or "your favorite animal-related non-profit. Details? Arf arf: They're here.
The Scene
What to do, where to go and what to see
Long Beach Zombie Fest: Typically, in a fright flick, our heroes don't know that they've entered a zone packed with shambling characters that are well past that whole "alive" stage of life. But if you shamble for Rainbow Lagoon from Friday, Oct. 20 through Sunday, Oct. 22, you should know that you'll be wading into a crowd of moaning, not-so-living cosplayers doing their best undead impressions. The Long Beach Zombie Walk is a famous event on the schedule, but there's plenty to groan over. We mean groooooooan over. Eye(ball) it now.
EastSide Food Festival: Could you, might you, would you try goodies and sips from over 35 different eateries/drinkeries that call the general east-y part of our megalopolis home? We think you could, might, and will on Sunday, Oct. 22 at the Mack Sennett Studios. No less than master guffaw-maker himself Eric Wareheim will be there, and he'll be pouring wine, too (his own, Las Jaras Wines). Fancy beer, keep-it-cool DJ-helmed vibes, and other sate your appetite activities will flow, like nice wine from a bottle held by Eric Wareheim, from 4 to 7 o'clock.
Copyright FREEL - NBC Local Media