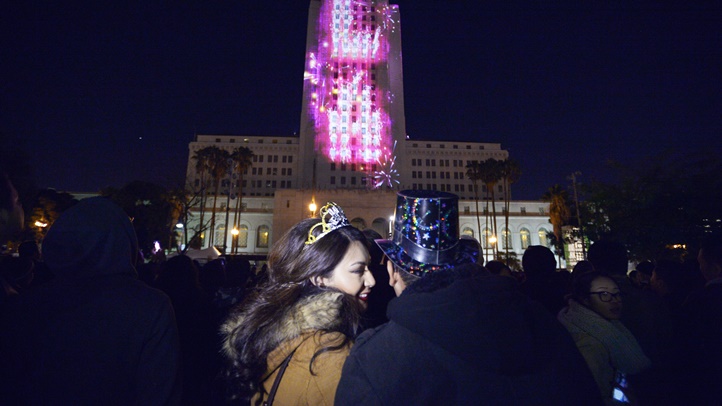 What to Know
Sunday, Dec. 31
Multiple locations, from Grand Park to LBC
Grand Park is free, but most events are ticketed
We know, we know, we totally, totally know: There are SO many considerations to consider as the last day of the year draws near.
For one? You'll want to line-up your lucky New Year's Day foods (hope you got those black-eyed peas, as stores can run out).
Also? You should probably nab that exercise/health/resolution app you've been pondering, just so you're good to go on Jan. 1.
The Scene
What to do, where to go and what to see
And, of course, you'll want to make sure you can see through those "2018" glasses, the ones where you essentially wear the coming year across your eyes in a hope-filled, looking-forward gesture of whimsy.
Finally? It's the moment to find the place where you'll enter the new year, as in the perfect party, or festival, or concert, or splashy to-do. They're plentiful around always-celebrating Southern California, from small, restaurant-based affairs to the mondo, lotsa-lotsa people, zazzy effects/music spectaculars.
Here are a few picks as you blithely cross the bridge from 2017 to 2018...
N.Y.E.L.A.: This is the huge and free and pay-nothing and doesn't-cost-a-dime extravaganza at Grand Park. "LA's biggest dance party" will include "free interactive motion-graphic activation" features and other cool-beans-y stuff. Start time is 8 o'clock on Dec. 31.
The Queen Mary: Fireworks over the ocean? It's not just for the Fourth of July. Sky sparkle is a Long Beach favorite when the old year goes, and that will absolutely be the case as 2018 begins. Buy a ticket to the ocean-liner's bash and join a bevy of parties or watch for free nearby. The Aquarium of the Pacific, too, is having a celebration, if you like some fins with your fun.
EVE at Universal Studios Hollywood: More fireworks'll add glimmer to the night as the dino-riffic, Potter-mazing theme park on the hill "wheeees" its way into the coming 12 months. There shall be dancing, too, at multiple party areas around the property, as well as glowing souvenirs for purchase and beverages to buy, too.
PROHIBITION NYE at Union Station: So we're not quite in the '20s yet, but as that decade is just two years away... Wait, really? Is it? Can it be? Wow. Anyhoo, you'll want to dig out some of your 1920s style for this posh Roaring Twenties-themed celebration. Burlesque, cocktails, live tunes, and other vintage convivialities lend the evening oodles of elegance.
New Year's Eve at Knott's: The Buena Park theme park is going the fabulous fireworks route at midnight in a special holiday presentation, so hooray to that. Swing dancers, live tunes, a DJ, comedy, and the festive favorites of Knott's Merry Farm will all play a part in the Sunday, Dec. 31 revelries.
Catalina Island: It takes some scheduling to reach this particular (and particularly old-school and long-running) party, but when you're there, wowza. The shebang happens at the historic Casino Building, there's a live band, and you get to gaze upon the picturesque island harbor and pretty Avalon come midnight from your perch on the structure's beautiful balcony. It's a dressy, island-cool happening, one for the memory books. (Note: This is sold out, but there is a wait list.)
LA Zoo: If you haven't yet seen the seasonal Zoo Lights at the Griffith Park destination, and you have some kids who want to celebrate New Year's Eve, this could be the perfect family combo. The countdown to midnight happens earlier in the evening, and the LED-tastic shimmer will be on, giving a glow to the big event. Details? 10, 9, 8... right here.
Kidspace Children's Museum: Midnight happens at noon at this Pasadena education-and-more institution, with a balloon drop and more celebratory doings scheduled for the middle of the day on Sunday, Dec. 31. But take note: It's next to the Rose Bowl, and while the game is on Jan. 1, you can bet it'll be way, way busy in the area, so arrive early and plan accordingly.
Keep in mind, wherever you celebrate, that Metro will offer free rides to revelers. Details, times, and all of the info you need? Right here.
Happy 2018!
Copyright FREEL - NBC Local Media