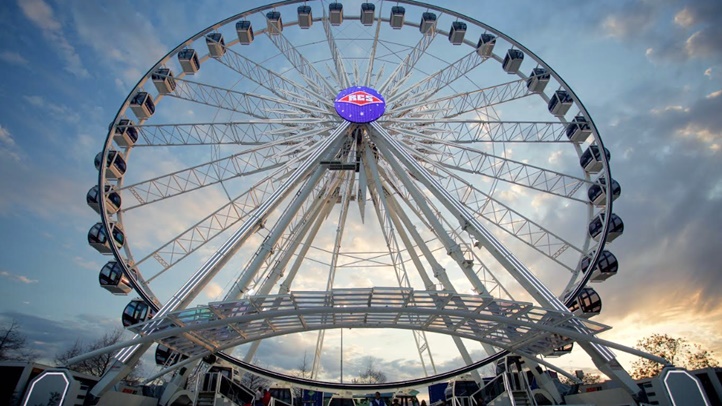 What to Know
May 18-June 17
$15 adult; $10 military, senior, children
Long Beach
Picture the Queen Mary, and summon to mind movement and length and distance, and you're bound to stretch your thoughts out in a forward direction, in the direction that a ship moves along the water.
Or your mind might plummet downward in direction, because underneath that ship there's a whole lot of ocean, and that's always fascinating.
Or was a lot of ocean, of course, when the famous ocean-liner traveled far and wide, prior to her arrival in Long Beach in 1967, her forever home.
The Scene
What to do, where to go and what to see
It's rarer, though, that we think up, as in high in the sky, when we think of ocean-liners, save staring up to admire their dramatic funnels.
But you'll want to look up, as in up, up, up, should you call upon the queen from Friday, May 18 through Sunday, June 17, 2018.
That's because an enormous Observation Wheel will be setting up picturesque residence at the ship for a month, but the Ferris-fun attraction, which hails from the Netherlands, isn't just for gazing upon.
You can ride it, too: An adult ticket is $15, while military, senior, and youth tickets are $10.
And lest you think this is a two-to-a-seat kind of spin, here's the dazzling deal: There are cabins to enter, and each cabin can hold 6 to 8 people, so you and your crew can discuss all of the sights you're seeing, both in the harbor and around downtown Long Beach.
Can you bring a drink into the cabin? Alcohol will be "available for purchase," yes.
Can you ride at early in the day? You bet. The wheel will begin to turn each day at 11 a.m., save on May 18, when it opens at 4 o'clock in the afternoon.
Can you ride at night? For sure, and you'll get to enjoy all of those LED lights lining the wheel (there are over a half million, in all).
Word from the Queen Mary is that this just might be, or it is "(b)elieved" to be, the "largest traveling observation wheel in the Western Hemisphere."
So look up, up, up, then once you board, proceed to gaze down, and around, enjoying the famous ship from a new vantage point: The vantage point of the ocean birds that splendily soar above the harbor-close area, all day long.
Copyright FREEL - NBC Local Media