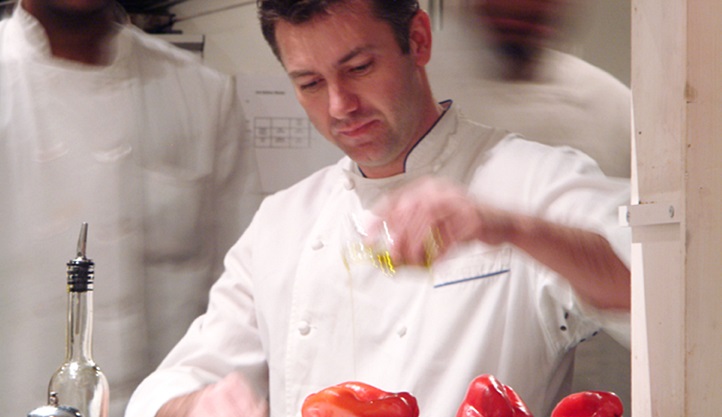 The middle of March is a time for thinking about the setting forward of clocks and the planting of sweet peas and the watching of basketball and the imbibing of green beer.
But it is also the period for delaying and for putting off and for suggesting that bigger plans and purchases wait for late April. We've entered tax season, when people are prone to spend a little less in anticipation of April 15th.
There are ways to get a modicum of fancy in, and certainly fine dining, without stretching tight accounts too far. A number of SoCal restaurants offer eats that are not posh in price; call 'em the $13-and-under set.
The Scene
What to do, where to go and what to see
Fig & Olive Melrose Place: It's "French Riviera-inspired dining" but the crostini's price tag is not as tony as all that: Three crostini, eleven bucks, and the ingredients include shrimp, avocado, cilantro, and tomato.
BLD: The words "kale" and "superfood" regularly appear together in articles, and for good reason: The leafy green is pretty much without peer on several health-benefiting front. The Beverly Boulevard restaurant has a $12 salad that includes yams, an ingredient all LA restaurants might consider putting in everything.
Cafe del Rey: This water-close eatery has a truffle pizza on the menu that is twelve dollars. We mention this because it is fairly rare to see the word "truffle" followed by a price that begins with the number one. Also? Pizza.
Napa Valley Grille: Ahi Tuna, while not quite in the truffle's rarefied cost range, can and does come with a tonier price point. But the Westwood restaurant has a tuna-yummy salad featuring seared ahi tuna that lands at $11.75.
Two things to note: We say you'll get a "tablecloth dinner" but, you know, there may not be a tablecloth on the table. Quibble not; you'll be eating plenty fancy, cloth or no.
Also, you'll want to stash tip money, too, so eating well for $13 actually means a few dollars more than that. We'd type "it goes without saying" but sometimes saying it is not a bad thing at all.
Copyright FREEL - NBC Local Media