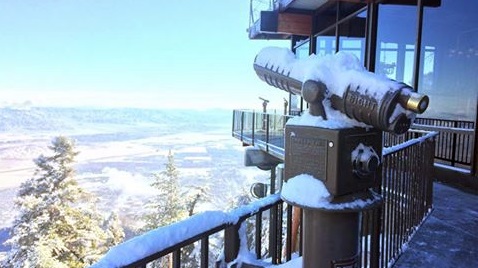 A number of traveling Southern Californians will spend their Thanksgiving in the desert resort cities, soaking up some intense sunbeams and, just perhaps, going for a brow-cooling dip in the nearest pool when the height of the afternoon arrives.
If this is your plan, and you hope to drift in some shimmery body of water for much of the holiday, do spend a moment gazing up at majestic Mount San Jacinto, and consider that there is now snow on the ground near its tippy top.
Just about an inch and a half, to be specific, at the Palm Springs Aerial Tramway's Mountain Station, to be specific again. The terminus for "the world's largest rotating tramway" sits some 8,516 feet above the valley floor, meaning that people aren't swimming up there so much as throwing snowballs.
The Scene
What to do, where to go and what to see
But when exactly snowballs shall be thrown is always a question come autumn. The tramway hosts a "Snow Guessing Contest" to stoke the anticipation, and the question put out to tram fans is this: When will the first measurable inch fall at Mountain Station?
That 2016 moment arrived on Nov. 21, and the snow kept snowing, adding a half inch on top of what was required to win. The ten winners' names have been posted on the tram's social media, and if your name is on the list, meaning you guessed correctly, you'll nab a quartet of admissions to the historic tram (plus "a special gift").
Even if you didn't win, or didn't even enter, or didn't know about the contest, consider this: The tram's Mountain Station, which holds a pair of restaurants laden with views, overlooks Palm Springs. And that's a city which famously keeps a pleasant-to-toasty vibe through much of the year.
So if you need the briefest break from the desert-style warmth, and the pool, and the floaty foam noodles, consider that you could be frolicking in snow in just under an hour (so leave the swimsuit in your room and find a coat).
The contrast is one of the coolest (literally) pairings in all of the Golden State: The sweet heat of Palm Springs and the tram's snowy ways come late November.
That they're neighbors, warm and cool, low elevation and high, is another charming feather in this region's cap (or snowflake upon a sweater, if you prefer).
Want to play in the flakes while visiting the desert? Check with the tram to make sure any recent snow has not melted away up the mountain, before you hop that rotating, vista-amazing car.
Copyright FREEL - NBC Local Media