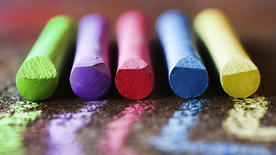 What to Know
Saturday, Sept. 8
Noon to 4 p.m.
First 150 people to sign in will receive chalk
What do kite festivals and chalk festivals have in common?
If you're Redondo Pier, then there is plenty of connection, one built around the equinox months.
For in March, the decades-old Festival of the Kite flutters about ten days to two weeks ahead of spring's start, while September delivers the Chalk Art Festival, around a fortnight ahead of when autumn arrives.
The Scene
What to do, where to go and what to see
They're both free, too, though it almost needn't be said on what major point the festivals diverge: One's in the air, one's on the ground, though both involve color, creativity, community, and wonder.
It's September, spoiler alert, which means it is time for the Chalk Art Festival, which, at 16 years, isn't quite as venerable as the 44-year-old kite party. But it is popular, and loved, which means if you want chalk, to make your own masterpieces, you'll need to be one of the first 150 people to sign in.
Saturday, Sept. 8 is the date, the hours are noon to 4 p.m., and "All Ages" and "All Levels" are welcome.
And while autumn is on the near horizon, we're getting a dose of summer on that date, making a day at the pier, all to make and admire art, a pleasurable diversion.
Are your tots showing up at home with the very first artworks of the school year? Is this inspiring you to envision your own landscapes, portraits, or abstracts?
Redondo Pier is the place, and while it is September, and it is all about the chalk, who knows... you may see a kite or two in the air, just like you surely will come across the occasional chalk artwork near the beach in March.
It's a nice across-the-calendar bridge for a nice place, equinox-to-equinox, sky color to sidewalk splendor.
Copyright FREEL - NBC Local Media