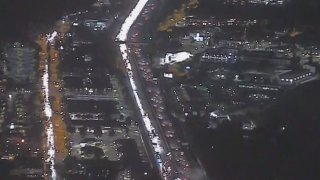 Part of the 101 Freeway was closed due to a multi-vehicle crash early Friday in the west San Fernando Valley.
One person was injured in the crash on the southbound 101Freeway in the Calabasas area, authorities said. Details about the victim's condition were not immediately available.
The crash was near Valley Circle Boulevard about 4:40 a.m. Lanes remained closed during the morning drive.
Details about what led to the crash were not immediately available.
Later Friday, a section of the 101 Freeway will be closed about 30 miles away near downtown Los Angeles. The weekend-long closure if for the Sixth Street Viaduct replacement project.