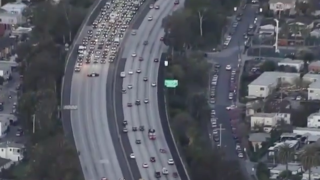 A police investigation into a shooting closed part of the 10 Freeway early Wednesday in Mid-City.
The shooting was reported about 4 a.m. on the freeway near Crenshaw Boulevard, according to the Los Angeles Police Department and the California Highway Patrol. The driver exited the freeway and drove to the area of 17th Street
and Gramercy Place, where officers took a report, according to the LAPD.
No injuries were reported to the driver or the two passengers in the car.
The eastbound side of the freeway was closed near LaBrea Avenue due to the investigation. Video from NewsChopper4 showed officers walking on the freeway, apparently looking for something on the road. 
Lanes reopened at about 7:30 a.m.