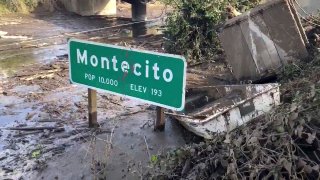 Below, a look back at some of the most devastating winter storms on record in California. Some changed the way the state plans for severe weather and altered landscapes, many left behind destruction and grieving communities.
Great Flood of 1862
It remains the worst flood in California's recorded history. Steady rain and snow that began falling across the West Coast in December 1861 served as the buildup to the Great Flood. Record rain in early January proved to be too much for rivers and streams from Oregon to San Diego. Adding to the destruction -- a warm storm that melted snowpack, causing it to run off into already flooded areas. Researchers widely agree that the storms were powered by an atmospheric river, a stream of tropical moisture that can create a conveyor belt of storms.
March 1907, December 1909 Floods
The flooding of all major rivers in the Sacramento Valley led to a change in the way engineers looked at California's flood control system, which had been based on a Midwestern strategy of confining floodwaters between levees. The idea of using bypasses and overflow weirs, dam-like structures designed to change a river's flow, had previously been rejected.
1938 Los Angeles Flood
Local
Get Los Angeles's latest local news on crime, entertainment, weather, schools, COVID, cost of living and more. Here's your go-to source for today's LA news.
A storm that arrived Feb. 28, 1938 brought rainfall that intensified before finally moving out of Southern California five days later. It left behind a catastrophe in LA, Orange and Riverside counties and other parts of the region. Bridges, homes, businesses and roads were washed away as rivers overflowed their banks due to consecutive whopping storms. More than 100 people were killed.
September 1939 Tropical Storm
A tropical storm lost its hurricane status just before moving onshore, but still packed enough power to cause significant destruction. The storm brought sustained wind gusts of 50 mph and more than 5.6 inches of rain to Los Angeles in a 24-hour period. The storm illustrated the state's vulnerability to tropical storms. Forty-five deaths were reported.
December 1955 Flooding
More than 70 deaths were attributed to the devastating floods in central and northern California, deluged by rain in the days before Christmas. A statewide disaster was declared as rivers overflowed their banks, resulting in an estimated $200 million in economic losses.
1969 Winter Storms
Forty California counties were declared disaster areas during the series of storms that contributed to nearly 50 deaths and $300 million in economic losses. The storms caused significant flooding in the Central Valley and the reformation of the Tulare River in the San Joaquin Valley.
December 1977 Wind/Dust Storm
Excessive rainfall isn't the only problem Californians have faced from winter storms. Wind gusts reached nearly 200 mph in the Kern County community of Arvin, lifting soil from the ground. Sand and dirt piled up on highways, buried cars and blew out vehicles' windows. The winds turned once fertile grazing and agricultural lands into a vast swath of sandy soil. Three deaths were attributed to the storm.
1982-1983 El Nino Storms
The weather phenomenon that influences California's weather ushered in rain and snow for several days throughout the state. Coastal areas were hit hard by wind and rain, but the storms also caused flooding in valley areas and mountain landslides. Although the storms brought record rainfall to the Sierras, much of that snowpack melted and poured into overwhelmed rivers. The storms heightened Californians' awareness of El Nino-influenced weather, leading to a strategy of reservoir releases during the 1997-1998 El Nino. Thirty-six deaths were reported and more than 6,600 homes were destroyed.
1995 Winter Storms
Relentless rainstorms cut off parts of the Monterey Peninsula along the central California coast from areas to the east. The Salinas River topped its previous record height by four feet. Downpours pushed other rivers in central and northern California to new records and bloated there region's streams. The storms caused an estimated $1.8 billion in economic losses and led to 28 deaths, according to the Western Regional Climate Center.
1997 New Year's Flood
The holiday storms delivered rain and snow in central and northern California from Dec. 26, 1996 to Jan. 3, 1997 with the worst conditions arriving on New Year's Day. The Yosemite Valley flooded for the first time in more than a century, and the problems didn't stop after the storms — rivers continued to overflow their banks and loosed soil led to landslides in the following weeks, blocking roads and leading to disaster declaration for most of northern California. Eight deaths were reported.
Editor's Note: The information above was compiled using resources from the Western Regional Climate Center, NOAA and USGS.
2017 Winter Storms
After a nearly six-year dry spell, the weather pendulum turned the other direction during January and February of 2017. The unrelenting fire hose of rain produced by waves of moisture flowing from the tropics to the West Coast unleashing a series of storms. Some of the worst flooding occurred in Northern California. In San Jose, Coyote Creek overflowed its banks and inundated neighborhoods with water, forcing about 14,000 people to evacuate. 
January 2018 Winter Storm
Overnight downpours led to a powerful mudslide that killed at least 21 people and destroyed homes in Montecito. Just weeks after the December Thomas fire burned hillsides in the area and other locations in Santa Barbara and Ventura counties, authorities had warned of the possibility of damaging slides during the storms. Firefighters and search dogs worked through challenging conditions, slogging through mud in search of victims and using helicopters to hoist people to safety in areas blocked by the mudslide.
Photos: Scenes From Before and After the Mudflow Cleanup in Montecito