Southern California's first significant storm of the season brought rain, lightning and strong winds overnight into Monday morning.
Up to an inch of rain is expected in the coast and valleys, while the foothills and mountains should see 1 to 2 inches. There's also a slight chance of thunderstorms Monday afternoon with most of the rain expected around 4 p.m.
"We're going to be watching for these pop-up showers," said NBC4 forecaster David Biggar. "By tomorrow, everything should start to dry out."
[wx-radar /]
Most of Los Angeles County had received less than an inch of precipitation. But the isolated showers expected into Monday evening might change that. The Hansen Dam area received just less than an inch as of 8 a.m., as did Culver City, La Verne, Alhambra and mountain areas including the San Gabriel dam.
Portions of Santa Barbara and San Luis Obispo counties were hit harder, with some areas receiving more than an inch-and-a-half of rain.
Drenching rains were a welcomed sight following a months-long dry spell that left most of Los Angeles County in moderate drought. The extreme northeast corner of LA County is in severe drought, according to this week's U.S. Drought Monitor.
Statewide, nearly 34 percent of state, including eastern San Bernardino and Riverside counties, is in extreme drought. More than 95 percent of California is in moderate drought at what is usually the wettest time of the year.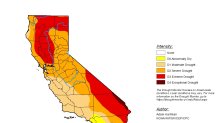 For those looking for a trip to the mountains, Mountain High received up to 10 inches of snow, while Pine Mountain had about 6 inches. Lower-elevation Frazier Park received about 4 inches.
Around 6 inches of snow is expected by Monday in the mountains, with the snow levels at about 5,000 feet. About 1 inch of snow is expected in the higher foothills of the Antelope Valley. Snow levels are expected to drop throughout Monday, possibly to about 4,000 feet, which includes the Grapevine portion of the 5 Freeway north of Los Angeles.
Temperatures will also drop precipitously Monday, with highs only reaching 57 degrees in downtown Los Angeles, the low to mid-50s in the San Fernando Valley and Orange County, and 49 in Lancaster. A high surf advisory will be in effect at areas beaches until Wednesday morning.
The rain is expected to clear out by Tuesday, but temperatures will remain on the lower side. A cold weather alert is in effect through Wednesday for Lancaster, through Tuesday for Mount Wilson, and Tuesday and Wednesday for the Santa Clarita Valley. Near-freezing or freezing temperatures are expected overnight in those areas.
This winter has set up to be drier than normal due to a strengthening La Niña pattern in the Pacific. Since 1950, there have been 22 different La Niña, and most have been on the dry side with below-average rainfall.
The most recent La Niña winter in 2017-2018 was below average, but heavy rain arrived in January after the Thomas Fire.
Copyright CNS - City News Service