What to Know
The best chance for rain and snow comes Saturday.
On Sunday, another storm brings more rain and snow.
Entering the weekend, It had been 171 days since downtown LA had measurable rainfall.
It has been more than 170 days since Los Angeles last reported measurable rainfall.
That changes this weekend with the first rain and snow of the season.
"That rain will be off an on and we got throughout the weekend, but right now Saturday is looking like the wettest day," said NBC4 forecaster Belen De Leon.
The mountains and eastern LA. County have the best chances for rain. On Saturday, rain will become widespread and snow levels drop for the mountains. Thunderstorms are not out of the question.
In San Bernardino County, an evacuation warning was issued for the E Dorado and Apple fire burns areas due to a flash flood watch. The warning is in effect until 8 p.m. because of possible debris flows.
On Sunday, another storm arrives bringing additional rain and mountain snow. The wet weather decreases by Sunday evening with total accumulations ranging from 0.25-0.75 inches of snow, but 1 to 2.5 inches are possible on the mountain slopes.
Total snowfall will be from 4 to 8 inches above 6,500 feet.
Downtown LA's last measurable rainfall was 171 days ago. The longest dry spell is 219 days in 1997.
Rain totals will be highest inland. Through Sunday evening, totals could reach more than an inch in the Los Angeles County mountains, Pomona, San Bernardino and Riverside. Totals closer to a half-inch are likely in Santa Clarita, Long Beach and downtown Los Angeles.
More than 67 percent of California is in moderate drought, according to this week's U.S. Drought Monitor report. The most severe conditions are in the northern part of the state.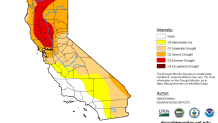 The same system is bringing snow to the Pacific Northwest and Northern California. A dusting of snow is possible in Southern California's mountains passes.
"By the time the storm moves out, the beginning of next week, we could see some snow-capped mountains," said De Leon.
But before the storm, temperatures will take a tumble, dropping by 20 degrees from Thursday's highs in some locations.
Inland temperatures will dip by about 30 degrees during the weekend.
Downtown Los Angeles is expected to see a high of 66 Saturday. Van Nuys and Pasadena will also see highs of 66 on Saturday.
Nighttime lows will begin dropping below 50 degrees across much of LA County on Saturday.
The Antelope Valley, which will see highs drop into the upper 50s Saturday. Lows will dip into the 30s beginning Friday.
In Orange County, Anaheim is expected to drop to 64 on Saturday, while the chillier coastal area of Newport Beach will see its high drop all the way to 60 on Saturday.
Copyright CNS - City News Service