A powerful Pacific storm brought record-breaking rainfall to Southern California Tuesday as homeowners in foothill communities, some which are under voluntary evacuation orders, made last-minute preparations for potentially damaging mudslides.
A single-day record of 1.15 set in 1961 was broken in Los Angeles on Tuesday.
Up to 6 inches of rain is possible in parts of Southern California by the time the storm moves out of the area Wednesday, according to the National Weather Service.
Despite slick roads and some minor flooding, there were no major mudslides or debris flows reported.
Three to 6 inches of rain were forecast in foothill and mountain communities, prompting flash flood watches for a widespread area that went months without significant rainfall until Sunday when the first of this week's two storm systems arrived. Rain was reported throughout Tuesday in the San Fernando Valley and San Gabriel Valley, where voluntary evacuation orders were issued for residents below a slide-prone hillside that burned in January's Colby Fire.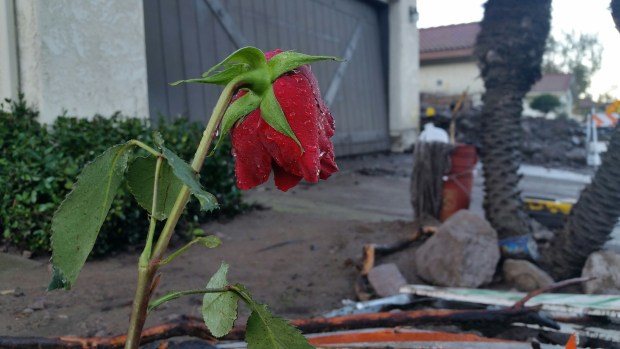 December Storm Photos
Storm Photos: Send Images to isee@nbcla.com
Glendora homeowners affected by mudslides during the last flash flood in the area prepared by stacking sandbags around properties and clearing away trash bins, vehicles and other obstructions that could become trapped in debris flows. An estimated 20,000 sandbags had been distributed as of noon Monday.
Flooding forced the closure of Glendora Mountain Road on Tuesday morning, and city and county crews spent the day patrolling the burn area neighborhoods, pouncing on trouble spots and clearing catch basins.
The heaviest waves of rain fell Tuesday afternoon and were expected to continue into Wednesday.
Tuesday's storm broke before it could wreak havok in the area, however crews continued to patrol the city's drains and keep a watchful eye over defences overnight.
"Last year during the flash flood they said it came down at 60 miles an hour," said resident Ed Heinlein. "I'm gone beyond nervous, I'm down to the grim reality of you fight it, you do what you can, you deal with it. You can't sit around worrying about it, you work through it."
The January fire left hillsides bare and drought conditions have loosened soil in an area with steep bedrock. Heavy rainfall could be "enough to take out houses," said Ann Blythe, an Occidental College geologist specializing in the study of the San Gabriel Mountains.
Voluntary evacuations were in place for the Silverado Canyon burn area in Orange County. The OC evacuation advisory was issued for about 50 homes east of 30311 Silverado Canyon Road.
Mandatory evacuations were lifted by Tuesday evening for the Ventura County community of Camarillo Springs. The order affected homes on San Como Lane and North San Como Lane near Lada Avenue.
Rain totals are forecast to exceed those of Sunday's storm, which dropped just over an inch of rain in Whittier, Agoura Hills and other communities and caused a landslide that blocked a nine-mile stretch of Pacific Coast Highway in Malibu. Projected rainfall amounts include nearly 2 inches in Temecula and more than an inch in San Bernardino, Santa Ana, Long Beach, Malibu and downtown Los Angeles.
Rainfall records for Dec. 2 include 1.10 inches in downtown Los Angeles (1961), 0.79 inches in Long Beach (1961), 1.32 inches in Woodland Hills (1961) and 0.45 inches in Lancaster (1961).
Light Rain Falls in Slide-Prone Glendora
The storm will likely bring much-needed rain and snow to a widespread area of California, which has received only light to moderate rainfall since Oct. 1, the start of the drought-stricken state's water year. The storm might bring more rain than Southern California has received in the last nine months, which included a summer of record setting heat.
Three years of drought have left the state's water reservoirs at critically low levels as snowpack in the Sierras, a critical source of spring runoff shared by 25 million Californians, has diminished. About 2 feet of snow is possible in the Sierra above 7,000 feet.
Nearly 80 percent of the state is under extreme drought, the second most severe category listed by the U.S. Drought Monitor. One year ago, about 28 percent of the state was under the severe drought category.
Significant drought relief would likely require a strong El Nino system, the tropical Pacfic Ocean phenomenon that affects weather patterns. Strong El Nino systems draw moisture into California, but a weak system probably would not generate enough rainfall this winter to significantly improve drought conditions.
The latest estimates place the chance of El Nino at 58 percent.