Mandatory evacuations are in place for some residents as a storm brings several days of steady rain to Southern California.
See a map of wildfire burn areas threatened by storms
Below you'll find information about the Holy Fire, Woolsey Fire and Montecito evacuations, along with information about Ventura, Orange and Santa Barbara counties:
Orange County
A flash flood warning was in effect Tuesday night until 11:30 p.m. with street flooding from La Habra to Huntington Beach possible, according to NBC4 Meteorologist Anthony Yanez.
Woolsey Fire Area in Malibu
Mandatory evacuations were ordered for Woolsey Fire burn areas for Tuesday, Jan. 15 at 8 a.m., LA County said. The county identified specific properties that may be subject to a high volume of mud and debris flow in the following areas:
Corral Canyon / El Nido
Escondido/ Old Chimney
Escondido Drive/ Latigo Canyon
Malibu West / Trancas Canyon
Malibou Lake
All of Ramirez Canyon Road and adjacent streets
Paradise Cove Mobile Home Park & Restaurant
The areas identified above are at high risk for potential mud and debris flow, according to Los Angeles County. These properties were identified as adjacent to steep slopes or are located at the base of drainage areas.
The city of Malibu said about 200 properties would be affected by the mandatory evacuation order.
Not all properties may be directly affected by mud and debris flow, but all roads in the area are subject to closure and residents may have limited access in and around the evacuated communities, according to a notice sent out by Los Angeles County.
LA County also said that Los Angeles County Sheriffs have established patrols to monitor evacuated neighborhoods for looting and to ensure public safety.
Four Malibu schools were closed Tuesday and planned to remain closed Wednesday: Juan Cabrillo Elementary School; Point Dume Marine Science School; Webster Elementary School; Malibu Middle and High School.
Residents evacuating Woolsey Fire burn areas may take their small animals to the Agoura Hills Animal Care Center, at 29525 Agoura Road, or the Agoura Hills/Calabasas Community Center at 27040 Malibu Hills Road. Owners of small animals that need special caging, food or medicine need to bring supplies with them.
Be sure all dogs and cats are wearing collars with securely fastened current identification.
Evacuation centers for large animals were opened Tuesday morning at Pierce College, 6201 Winnetka Ave. in Woodland Hills, and the Hansen Dam Equestrian Center, 11127 Orcas Ave., in Lakeview Terrace.
More information is available by calling Animal Care and Control at (661) 257-3191.
Burbank Hillside Neighborhoods
Evacuations were ordered to begin at noon in the following areas of Burbank near County Club Drive. An evacuation center was set up at the McCambridge Recreation Center at 1515 North Glenoaks Blvd.
All of Hamline Place
925-1030 Groton Drive
830-849 Stephen Road
907-936 Irving Drive
2906 & 2934 Olney Place
2934 Remy Place
2949 Mystic View Place
3430-3436 Brace Canyon Road
3301-3310 Brookshire Court
3318, 3321, 3322, 3422 Wedgewood Lane
3514-3519 Folkstone Court
3529-3530 Castleman Lane
Mandatory and voluntary evacuations in Burbank were lifted at 9 p.m., with the designated evacuation site located at McCambridge Recreation Center closed.
Mandatory Evacuations Ordered in Burbank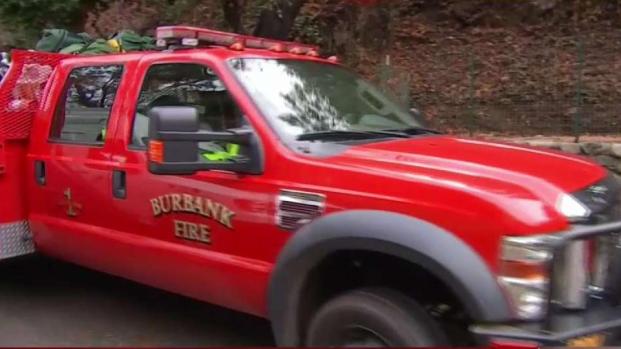 Montecito in Santa Barbara County
In Santa Barbara County, residents were under mandatory evacuation orders beginning Tuesday at 10 a.m. in the Montecito area, but the evacuation orders were lifted at around 6 p.m.
The Santa Barbara County Sheriff's Office initially ordered anyone in the evacuation zone to prepare immediately as sudden mudflow could leave residents in serious danger, or leave them trapped for days. Check alerts here.
Montecito Under Mandatory Evacuations a Year After Deadly Mudslides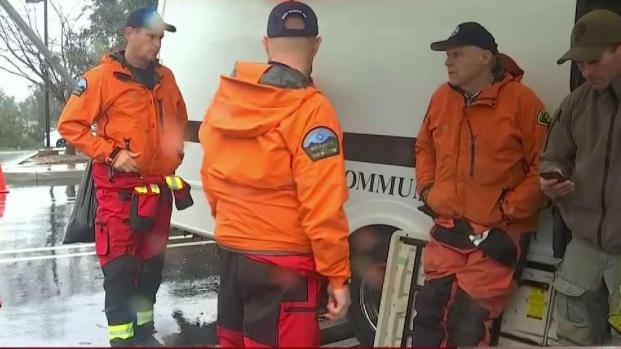 Animal Shelter
A Red Cross shelter will be open at Goleta Valley Community Center, 5679 Hollister Ave. at 10 a.m.
If you need help, call the Animal Services Helpline at (805) 681-4332.
School Closures
El Montecito Pre-School and Crane Country Day School
The following schools will host classes at alternate sites:
Lady of Mount Carmel
Montecito Union School
Laguna Blanca Lower School
All other schools including Carpinteria Unified Schools were to remain open.
Anyone who needs help can call (833) 688-5551 or 211.
Ventura County
Northwest of Los Angeles, Ventura County was under a mandatory evacuation Tuesday in the following areas:
Matilija/Wheeler Springs/North fork (extending along Oso Road)
South Coast of Ventura County/Community of Malibu
The following areas were downgraded to voluntary evacuations as of approximately 7:15 p.m., according to the Ventura County Fire Department.
Bell Canyon (entire community)
Oak Park (specific homes adjacent to the hillsides)
Residences east of Highway 33/Casitas Springs (Vista Burn area)
Ventura City
La Conchita
East Ojai
Road Closures:
Yerba Buena Road, form Ellice Street to Yellow Hill Road
Harbor Boulevard between Sanjon Road and Ventura Pier (City of Ventura)
The Calabasas/Agoura Community Center was acting as an evacuation center, located at 27040 Malibu Hills Rd.,Calabasas, CA 91301
For more information of road closures, school closures and evacuation updates, click here.
Holy Fire Area in Riverside County
Lincoln Street, east of Westwind Drive was closed due to debris flow as of 8:19 p.m., according to the Riverside County Sheriff's Department.
The following zones in the Holy Fire area have been downgraded to a voluntary evacuation warning. However, people in these zones are still at risk for potential dangerous debris flow that can send mud, boulders and trees crashing down hillsides.
Amorose
Glen Eden
Maitri
Alberhill
Grace
McVicker A
Glen Ivy A
Horsethief A
Rice
Glen Ivy B
Laguna A
Withrow A
A care and reception center was set up at Temescal Canyon High School at 28755 El Toro Rd. in Lake Elsinore to take in residents. Small animals were being accepted at the San Jacinto Animal Campus at 581 South Grand Ave. in San Jacinto.
Those who have large animals were instructed to contact Riverside County Animal Services.
Evacuees with recreational vehicles or motor homes were being provided free hookups at Lake Skinner Recreation Area at 37701 Warren Rd. in Winchester and Rancho Jurupa Regional Park at 4800 Crestmore Rd. in Jurupa Valley.
More information is available at www.rivcoready.org.