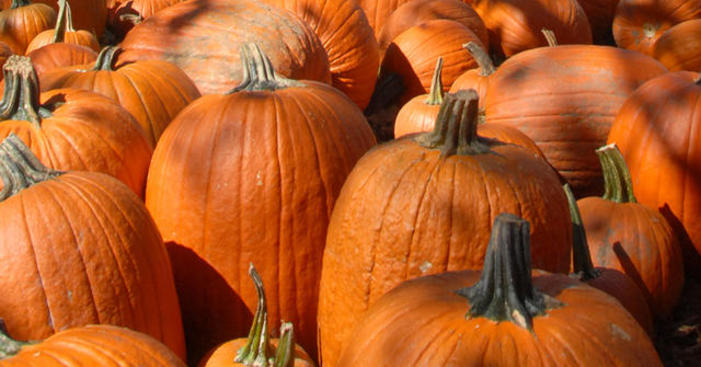 IN A NOSTALGIA-OFF, as in, a competition to see what event is more nostalgic at heart than all the others, would a summertime picnic, a fall pumpkin patch, or a holiday parade win? Well, first of all, there is no such thing as a "nostalgia-off," because the spirit of nostalgia is pretty benevolent, overall, and not looking to best the competition. So let's just say, to be extra-super-duper nice, that all of those events would get a blue ribbon, because that's how a nostalgia-off works.
BUT WHEN AUTUMN IS DUE, and the winds are getting a tiny brisk at night, and the candy aisles are become even candier, and Halloween-themed costume stores are sprouting everywhere, the nostalgia we feel sweeps us right in the direction of an orb-filled, squash-spectacular, activities-cute pumpkin patch. And few places can wear that orange-hued crown like the pumpkin patch in Orange, at the...
IRVINE PARK RAILROAD: For not only are there all sorts of gourds to browse, and buy, if you want, but there's that adorable, not-too-big train that the younger set (and the younger set's parental set) adores. And the 2018 patch has its opening date: Saturday, Sept. 15, which means you don't have to wait for October to get your pumpkin on, or at least your pumpkin-perfect outing. Also amazing? You can walk in, for free, though note that participating in various activities will take various numbers of tickets, so you'll want to have money, yep.
Worth The Trip
Stories on what is truly worth your valuable vacation time
ACTIVITIES INCLUDE... the railroad, as mentioned, and hay rides, and a moon bounce, and carnival games, and cookie decorating, and more such cuteness. Can you already sense the major nostalgia on the rise? It's there, for sure, and it will remain at the patch throughout October, all the way to Halloween. One other amazing part of this location's annual pumpkin-focused fun? There's The Great Pumpkin Weigh-off on Saturday, Sept. 22, which will see some truly gargantuan, garden-grown giants of pumpkindom.
Copyright FREEL - NBC Local Media