Annette Arreola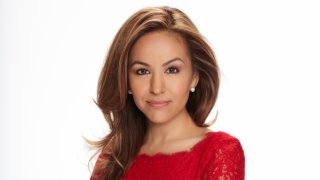 Annette Arreola joined NBC4 as a general assignment reporter in 2011.  She can be seen on the weekday morning newscasts "Today in L.A." from 4 to 7 a.m. and the NBC4 News at 11 a.m.
A Southern California native, she is thrilled to be reporting for the station she remembers watching while growing up. Arreola is passionate about her role as a broadcast journalist and deeply respects being in a position to bring the community reliable and credible information.
Since joining the NBC4 team, Arreola has been recognized for a number of stories, including her two-day coverage of Space Shuttle Endeavor's final mission to the California Science Center, as thousands of people watched on. Another one of her memorable news pieces was on human trafficking in Riverside County in which she spoke to several escape victims who recounted their stories.
Other highlights of her career include covering some of California's largest wildfires, including the Zaca Fire along the Central Coast in 2007. She also recalls her coverage of the breaking news of Michael Jackson's death in 2009, and her in-depth piece that looked at Hispanic farm workers in Santa Maria affected by the HIV virus and the cultural challenges they faced.
Prior to joining NBC4, Arreola spent two years as a general assignment reporter and fill-in anchor for KTNV Channel 13 in Las Vegas. A first generation Mexican American and fluent in Spanish, she also served as a general assignment reporter for KRCA-Estrella TV in Los Angeles, and bureau chief at KPMR Univision in Santa Barbara.
While not out in the field gathering news, Arreola enjoys spending quality time and traveling with her family. One of her life-long dreams is to get her pilot's license.
Fluent in Spanish, Arreola is a member of the National Association of Hispanic Journalists and the California Chicano News Media Association. She graduated from Cal State Fullerton with a bachelor's degree in broadcast journalism.