Los Angeles' popular Runyon Canyon hiking area will temporarily close this Spring to allow crews to install a new water line through the park, city officials confirmed Wednesday.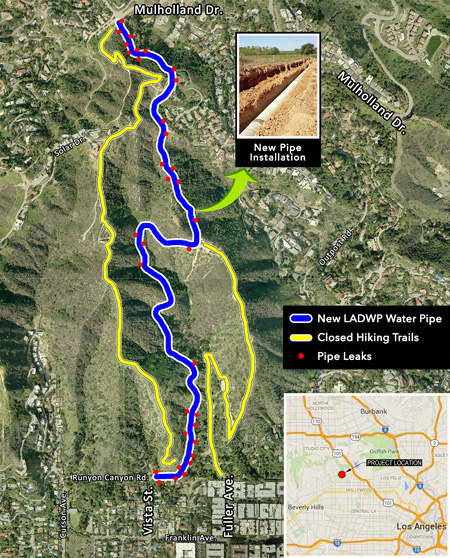 Runyon, a popular destination for hikers and dog walkers with sweeping views of the sprawling metropolis, will close from April 1 to July 31, according to the Department of Recreation and Parks.
All hiking areas in the 160-acre park in the Hollywood Hills will be closed off to the public, but the yoga field will remain open, city officials said.
The Department of Water and Power will being installing a one-mile long, 6-inch water pipeline that snakes through the park from Runyon Canyon Road to Mullholand Drive. It's designed to improve the city's fire protection system, reduce pipe breaks and improve the quality of water for surrounding communities.
The DWP says there have been nearly three dozen leaks in the existing, decades old pipeline. Officials warn those leaks can damage the park and nearby neighborhoods by taking the form of sinkholes and mudslides.
"This is a disaster waiting happen and we need to get this fixed," Councilman David Ryu said.
By replacing the pipeline, firefighters will also be in better position to battle wildfires.
Completely closing Runyon cuts the construction time in half, and also cuts the $2 million cost in half, according to officials.
"It's going to have a big impact on our lives, especially being closed in the summer," said Kristan Delatori, who was hiking in the canyon Thursday. "Too bad they couldn't have done it during winter time."
Construction will take place from 7 a.m. to 4 p.m. Monday through Friday, though some construction could take place on weekends.
"We'll make every effort to deliver this project as quickly and efficiently as possible," said Marty Adams of the DWP.
Alternative hiking spots include:
Franklin Canyon Park, 2600 Franklin Canyon Drive;
Fryman Canyon Park, 8401 Mulholland Drive, in Studio City;
Hollywood Reservoir, 6399 Weidlake Drive, in Hollywood; and
Wilacre Park, 12601 Mulholland Drive, in Studio City.
Adrian Arambulo contributed to this report.