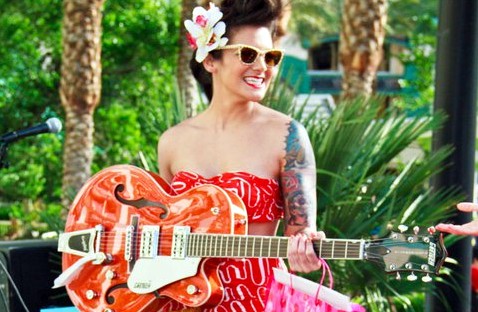 Viva Las Vegas
The 15th annual Viva Las Vegas gets strumming from Thursday, April 5 through Sunday, April 8.
CARS, CLOTHES, MUSIC: No doubt about it -- the annual Johnny Cash celebration in Ventura this June will be one of the most major rockabilly bashes in the state this year, thanks to the line-up of alt-country bands and vintage cars. But outside the state? Look no further than our neighbor Nevada, where Viva Las Vegas is set to roll like an oversized set of sparkly fur dice. It's the 15th outing for the all-things-rockabilly extravaganza, a get-together that's billed as "The Biggest Rockabilly Party in the World" on Viva's homepage. A slow cruise around the colorful snapshots and hot goings-on backs up this billing. Let's have a peepsie, shall we?
ON THE ROCKIN' ROSTER: The wonderful Big Sandy and His FlyRite Boys are on the bands poster; so are The Ventures and Duane Eddy. There's a burlesque show, there are autos, there are clothes (bet you'll see a host of parasols, this being sunny Vegas and all), and, yep, there is bowling. And ready for it? LA's own Charles Phoenix will be there with his box of old-school, mid-century slides. Call it a rockabilly feast for the senses, the closet, the ears, the eyes, and the carport, too. Okay, that's a lot of feasting, but four days of Vegas-style let-go calls for it.