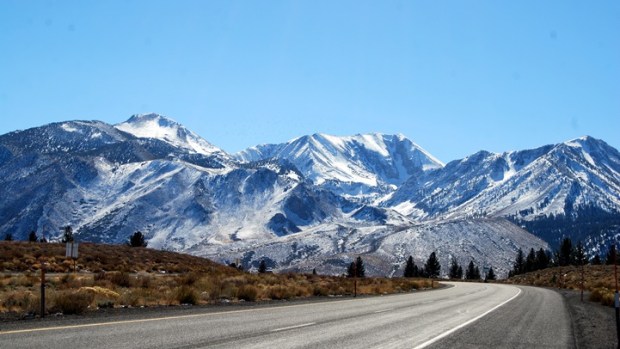 Mono County
Take a scenic tool 'round Mono County in the middle of January? Yep, this warm winter is sure different.
USUALLY ABOUT JANUARY... a lot of Mono County is very flaky. Oh, we're not saying that it is undependable or can't be trusted to run an errand for you or meet you for lunch at the appointed time. We speak of the other type of "flaky" -- snowflakes. The gorgeous and wild Eastern Sierra stretch gets a lot of them around the start of winter, so much so that it is hard to throw a pole without knocking a skier's hat off his head. (Don't throw poles, by the way; best stick to snowballs.) But the coldest season is turning out a little bit differently for its 2013-2014 run. Make that a lot differently. Drought-like conditions across much of California, and few clouds, and not much precipitation, means that Mono County's typical January pursuits, recreation-wise, are less about lifts and snowboards and more about hiking boots and driving maps. Yep, the stuff you might do around the county in June or July is now doable in January. Want to hike? You can. Want to drive? That's good, too.
OF COURSE... there is snow in the Sierra, so don't pack your Hawaiian shirt just yet. Mammoth Mountain and June Lake are still very much open for business. But check it out: Fishing at the Upper Owens River has been "nothing short of spectacular," says Tom Loe of the Sierra Drifters, and Highway 158 -- that's the June Lake Loop -- is open "end-to-end." This could all change in the blink of an eye, or a welcome snow shower, so if you want to get a few summery pleasures in now, well, make that "now" as soon as possible. Weather as a way of changing in a lickety-split fashion in the mountains, as pretty much everyone knows. Still, though, it is strange to have a slice of summer in wintertime. But it isn't too summery; your drives and hikes'll still take you near "icy waterfalls" -- pretty -- and those quintessential snow-capped Sierra peaks.