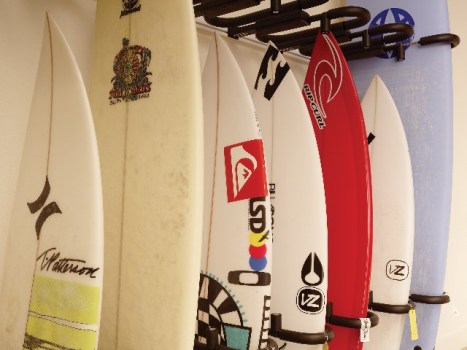 Matthew Millman
You can learn to surf, Billabong-style, at the Shorebreak in Huntington Beach.
WAVE KNOWLEDGE: "Surf lessons" probably hover around number 15 on most people's bucket lists, and certainly those people drawn to the beach-sun-salt lifestyle that we are still pretty much ruling, with aplomb, around these Golden State parts. But, as with so many bucket-list-y things, wriggling into the wet suit can get put off. And off. And off. It would be so much easier if we had a hotel near our lesson to rest at and chill after, right? No salting up the driver's side of our car. Oh, look: Such a place exists.
THE SHOREBREAK: The Joie de Vivre property is plunk in Huntington Beach, which is longhand speak for "surf surf surf." The hotel has a Billabong Surf Experience Package on, which includes two hours of hang-ten-ready lessons and the proper gear and wear. You can also choose between a non-view and ocean-view room, at different price points, natch. The wave-facer is $350/night. We like the other goodies, too, especially the comp bar of surf wax. We'd so display that in our cubicle upon returning home.