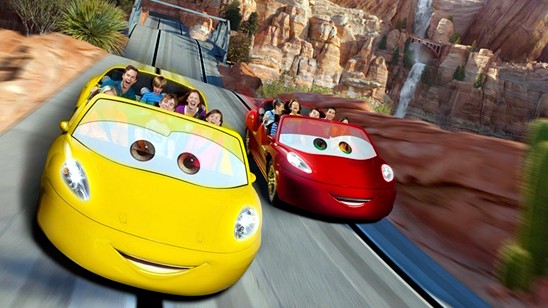 Disney
The Disneyland Blog recently offered this sneak peek at Cars Land. The attraction will open at California Adventure in summer 2012.
ZOOM ZOOM: While "Cars" and four-year-old boys seem to go together like peanut butter & jelly -- if you've chatted with a young gentleman lately we'll wager he was wearing a "Cars" t-shirt or the films at least came up in conversation -- the people craning to peek into Cars Land at Disney California Adventure are well past childhood. The Pixar property has wide reach, in short, both in popular culture and at the park itself. If you've been to California Adventure in the last six months you know what we mean; the growing Cars Land, which is set to open this summer, takes up a fairly huge chunk of the park. It's a real land, with the main street of Radiator Springs portrayed in full. And those adults straining to get a look over the construction fence? They're looking might excited, even if they themselves aren't sporting an official "Cars" t-shirt. (Maybe they are under their official Mickey jackets.)
THE PREVIEWS: It is still winter, of course, and the true Cars Land sneak peeks haven't yet begun in full. But Disneyland Parks & Resorts have been dropping some pre-sneaks in recent weeks, so we're posting about one -- a first look at the Radiator Springs Racers, pictured above. Pretty nifty, right? We'll always have a sweet spot for Autopia in our heart, but we'll be happy to zoom around in one of these. Also, here's some behind-the-scenes video on the making of the Ramone's House of Body Art, filmed in December.