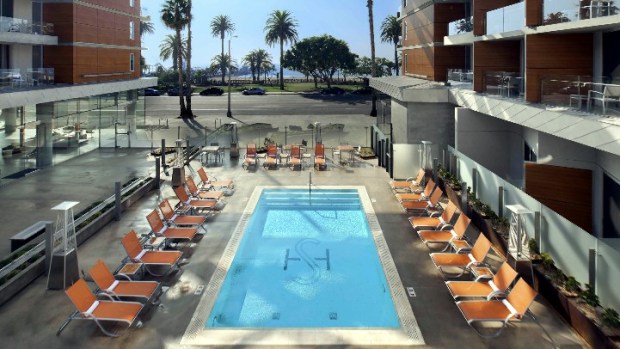 Shore Hotel
Santa Monica's Shore Hotel offers a Twilight Concert package, complete with dance lessons, for summer 2012.
DANCE SANS DRIVE HOME: When you get to see a favorite band for free, there may be other ways you want to spend cash. Maybe you want a tee or a fine meal or maybe you really want to do it up and stay just steps from where you saw the show. Yep, anyone who has ever been to a concert probably wishes, from time to time, that their bed would suddenly appear, right there in front of the stage. That wish can almost come true, and there are some nifty additions, via the Shore Hotel's Twilight Concerts package. You know the Shore Hotel, which is cheek-by-jowl, or nearly, save a street, with the beach in Santa Monica. And you know the Twilight Concerts, which are the free summertime shows on the Santa Monica Pier. But did you know that the Shore Hotel's package comes complete with dance lessons from a "professional dance instructor" and a fancy picnic? Now you do.
OTHER DETAILS: The package opens on Thursday, July 5, the night that Twilight Concerts open for 2012. It runs through Sept. 6, the final concert of the series (ohhh yeahhh, and that one has Best Coast, the oh-so-LA outfit). Starting price is $479. For more details about the Shore's other packages, like Bikini Jumpstart, and what's going on the Pier, click and click. And happy dancing, Pier partiers.