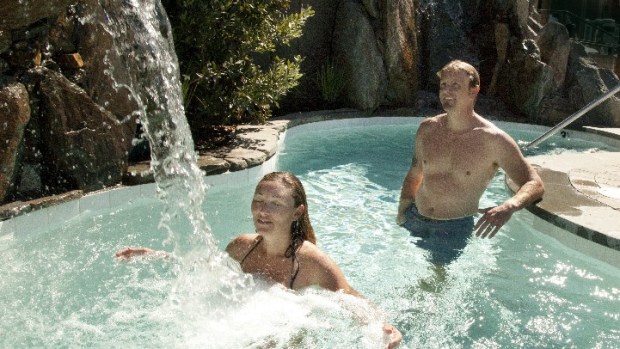 Refuge
Refuge in Carmel offers a pool-based relaxation experience for men and women.
MAKING ASSUMPTIONS: Excuse us while we go out on a limb here (oh, and you might as well picture that limb belonging to a Monterey Cypress, since we'll be talking about Carmel). If someone plans a vacation in Carmel, they're not coming laden with technologies and ways to stay plugged in and uber-connected to their go-go-go life. Right? We hope not. We're not saying you can't check your phone, but please. You're in Carmel. Suck some of that clean salty fog into the ol' torso. Forget about your company's social media next steps for two seconds. And unwind. If you need inspiration, there's a new pool-laden hotspot on the block, and we do mean hotspot, given that many of the pools are filled with sweet steam. It's Refuge, it opened a couple of months back, it is open to both men and women, and it's all about the letting go.
WELL, AND... Waterfalls and cold plunge pools and cedar saunas and eucalyptus steam rooms. The big tagline on the home page is "Your Best 3 Hours in Carmel" and that feels like a solid amount of type to spend not thinking about your to-do list. It's $39 -- that's pretty vacation-friendly all righty -- and there's an add-on massage option, too. A few things. Since it is co-ed you'll need your suit. Done? Done. And two? You'll get to spend some time blissing out over the Carmel-wild Santa Lucia Preserve. Really. Are you going to leave your phone back in the hotel room or what? Don't let workaday issues enter your steam-soaked ether, at least for an afternoon.