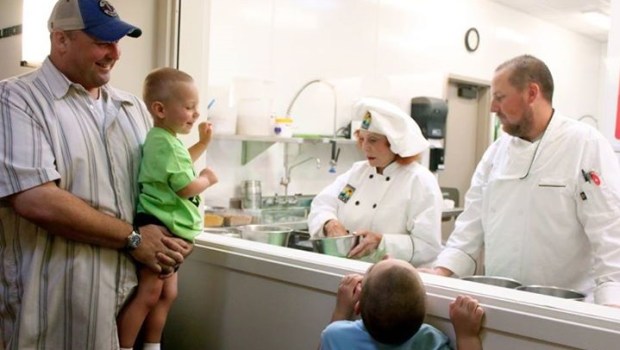 Santa Barbara Zoo
The new Ridley-Tree Animal Kitchen inside the Discovery Pavilion at the Santa Barbara Zoo gives visitors a close-up look at how the zoo denizens' meals come together.
OPEN KITCHEN: When we ponder the contemporary "open kitchen," we tend to think of an airy restaurant filled with high ceilings and large windows and one whole wall devoted to doings behind the scenes. You can see the chefs in their toques and the plating area and bussers buzzing back-and-forth with trays and orders. But there are other open kitchens to be found in this world, and, nope, you can't order food from them, at least if you're a human. But if you're a lion? Or an anteater? Well, you've got a permanent table reserved in your name. We speak of those zoos and animal parks which now provide guests a peek inside how a kitchen runs. Make that a kitchen devoted to the cuisine of animals, be they wee reptiles or powerful felines, meaning it is an operation that must juggle a wide variety of meals and nutritional needs and special diets and individual considerations. Not that we people don't require such things, but consider feeding all the different animals of a zoo over the course of a day. The Ridley-Tree Animal Kitchen at the Santa Barbara Zoo does just that, and now zoo visitors can peek inside and see what goes into a lion's lunch.
THE DISCOVERY PAVILION: The large window facing the bustling kitchen is found in the zoo's new Discovery Pavilion, which boasts a large classroom, a library, an activity zone, a family terrace, numerous other helpful-to-staffers features and, yes, the animal's grub-filled galley. Stand at the window where "(a)n AV system allows guests to hear staff talk about how they create healthy and balanced meals for the Zoo's animals." It's a big job. "Prep work starts early in the morning in order for all the animals, from cockroaches to condors, to get fed." Have a budding chef in the family? Someone who wants to work with animals? Or are you just curious how cuisine in the animal world comes together for a wide variety of beasties? A visit to the Ridley-Tree, which debuted in the spring of 2014, is an actual window on this interesting world.