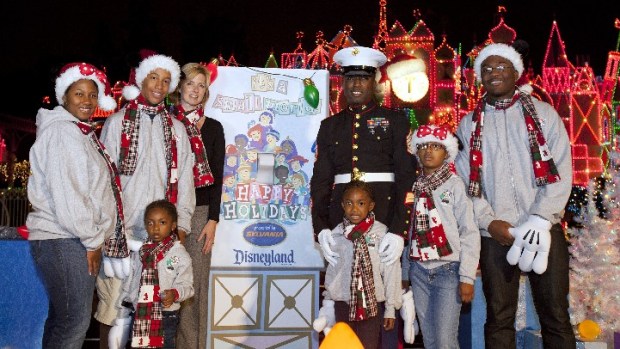 Disneyland
Gunnery Sgt. Derrick Poteat had the honor of flipping the Disneyland Holiday switch on Monday, Nov. 14.
FLIP THE SWITCH: There aren't a lot of important switches in the world. Maybe that's because most things are always turned on, regardless of season or event (that's often the case, anyway, given that we now live in a 24-hour-a-day kind of world). But there are a few places that still greet specific seasons and times of year with a grand "flipping of the switch" ceremony. Disneyland is one such place, and every November the park invites a special guest to do the honors. In 2011 that guest was Gunnery Sgt. and Operation Iraqi Freedom veteran Derrick Poteat. Sargent Poteat's family joined him to flip the switch on Monday, Nov. 13. Any guesses as to the number of lights lit? Get ready for it: 300,000+. Now that's pretty darn Disneyland in our book.
HOLIDAY HAPPENINGS: The Haunted Mansion is still wearing its "A Nightmare Before Christmas" finery, but several other places have gone the tinsel-and-swag route. it's a small world is one famous festive location; Sleeping Beauty's Castle is just laden with twinkle, too. There's a special parade and other seasonal touches (hi, we're thinking of the candy canes they make at the park, but then we so often are).The Holidays at Disneyland Resort run every day through Jan. 8, 2012.