Where Evacuated Ventura County Residents Can Take Their Pets
If hotels or temporary shelters don't accept animals, there are public and private sites are offering their services for free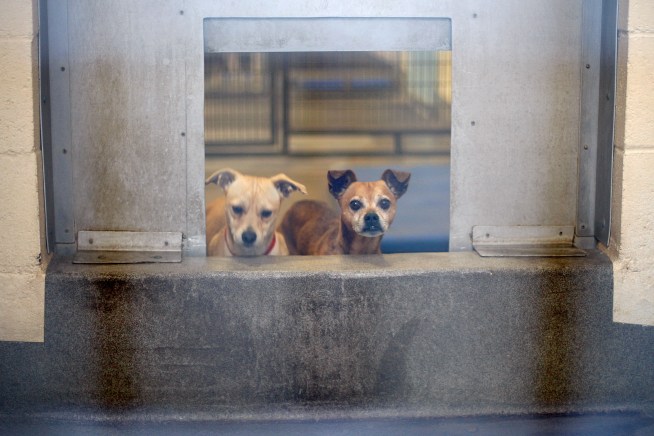 Getty Images
Pets in Ventura County can take shelter in evacuation centers while their families flee the growing, wind-driven Springs Fire on May 2, 2013. Pictured, two Chihuahuas await adoption at a Los Angeles animal shelter.
Four-legged members of evacuated families in Ventura County have their own evacuation shelters to settle into as the Springs Fire continues to burn more than 6,500 acres in the Camarillo area.
Ventura County Animal Control is accepting small pets at their shelters in Camarillo – located at 600 Aviation Drive (map) – and in Simi Valley – located at 670 West Los Angeles Ave. (map)
For help with large-animal evacuations, residents can call animal control at 805-388-4258.
Canines can take shelter at Camp Bow Wow, a doggy day and overnight care center that is offering free housing for pups until the fire threat is over.
Camp Bow Wow is located at 29348 Roadside Drive (map). Residents can call 818-889-2267 for more information.
This article will be refreshed with new information for pet owners as it becomes available.