Fontana Fire Still Burning Sunday
A fire at a pallet plant continued to smolder on Sunday. At its height Saturday night, the three-story blaze drew 200 firefighters.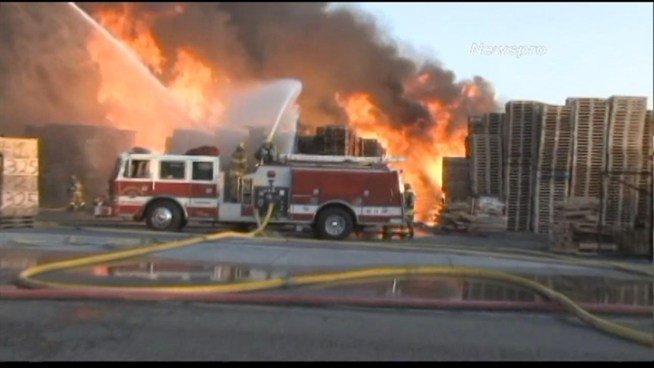 This blaze at a Fontana company that makes pallets burned three-stories high and drew nearly 200 firefighters.
A six-acre blaze at a Fontana industrial site continued to smolder on Sunday, and firefighters remained on the scene.
The five-alarm inferno in the 14,000 block of Clover Ave. drew nearly 200 firefighters at its height Saturday night.
One firefighter was treated for heat-related injuries, San Bernardino County Fire officials said.
Firefighters learned of the blaze shortly after 6 p.m. on Saturday.
It soon tore through the plant, where wood pallets stacked two and three stories high acted like kindling for the crackling flames.

Follow NBCLA for the latest LA news, events and entertainment: iPhone/iPad App | Facebook | Twitter | Google+ | Instagram | RSS | Text Alerts | Email Alerts