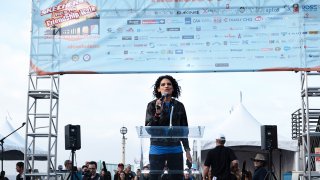 The Skechers Pier to Pier Friendship Walk, organized to support kids with special needs, gathered virtually on October 25 to raise awareness and financial support for children with special needs and education.
The event raised over $1.8 million in funds, tipping the total since its first walk in 2009 to $15 million. Celebrity youth and students across Southern California's beach cities joined to host the event, taking viewers through its community's personal journey during these unprecedented times. A star-studded lineup including headlining media sponsor NBC4's Lolita Lopez rallied behind the kids and the cause.
The event included performances with America's Got Talent winner Kodi Lee and appearances from personalities and sport legends such as Tony Romo, Brooke Burke, Sugar Ray Leonard, Matt Kuchar, Brooke Henderson, Howie Long, Denise Austin, and many more.
To learn more or watch the event, visit skechersfriendshipwalk.com.