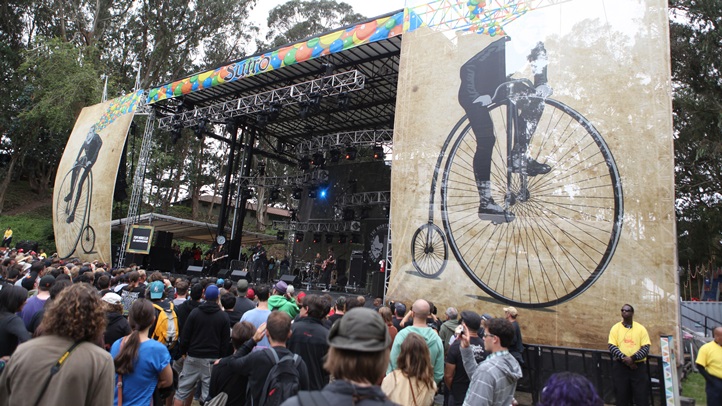 AUGUST ON THE WAY: Just about the time when a lot of music mavens are dragging their suitcases out of their respective closets and throwing in tees and hats and bottles of sunscreen and handfans and sunglasses, more -- more more! -- exciting music news comes down the pike. It's the annual announcement of just who will be appearing at Outside Lands, the giant three-day party at San Francisco's Golden Gate Park.
OUTSIDE LANDS... takes over the second weekend in August each year -- Friday, Aug. 7 through Sunday, Aug. 9 are the 2015 dates -- and its big reveal happens a couple of weeks before the Coachella Music and Arts Festival. (Hence us referring to sunblock and sunglasses and suitcases and such.) Nope, the two mega fests aren't twins or truly related in all of the official ways, but yep, many people who call upon the weekend-big music festivals of the West put them both prominently on the calendar. And while fest fans have known the dates for this year's show, the who'll-be-singing/jamming/rocking part of the equation has been unrevealed as of yet. But "as of yet" ended on Tuesday, March 24 and the line-up for the 2015 Outside Lands is set to go. Elton John, Mumford & Sons, Kendrick Lamar, The Black Keys and...
MANY MORE ARTISTS... are set to appear. Hello Sam Smith, hello Wilco, hey there, D'Angelo and St. Vincent. As alway there'll be a caboodle of newcomers and acts on the rise, and a very robust fancy food and fancy beer and incredibly solid wine scene. (No, we don't mean fancy as in you'll need to tuck a napkin into your shirt; just that a bunch of lauded chefs are behind the vittles of Outside Lands.) It does in fact bill itself as "the world's only gourmet rock festival." And it does break down the food areas into distinct regions like Cheese Lands and Choco Lands. So how about those tickets, huh? They go on sale on Thursday, March 26.
Copyright FREEL - NBC Local Media