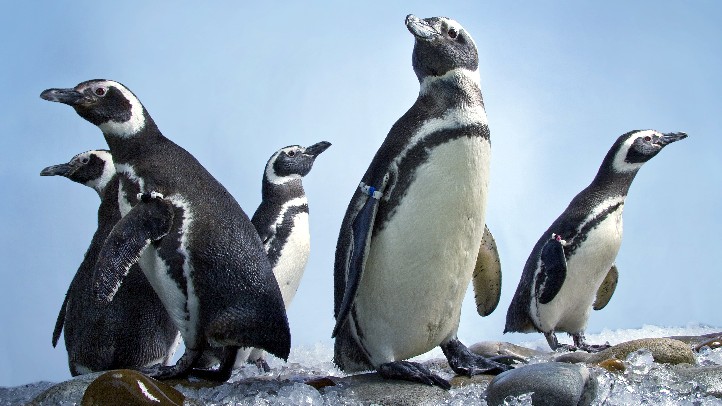 It's a charming fact that many aquariums include water-loving fowl within their hallowed, H20-laden halls. Really, when you think about it, several creatures that split their time between land and sea get prominent aquarium billing -- we're looking at you, Horseshoe Crabs -- so we should never think of an aquarium as just a fish place.
And one of the most famous sea/land superstars to call aquariums home? The penguin, of course, which makes it all the more surprising that our own Aquarium of the Pacific has never had an area devoted just to those wildly popular, tuxedo-waddly wonders of the Southern Hemisphere.
Until now. The June Keyes Penguin Habitat will debut -- or waddle, if you prefer -- at the Long Beach-based aquarium on Thursday, May 17. "About ten" penguins will call the habitat home, although the behind-the-scenes check-in time of each bird will vary.
The birds are "Magellanic Penguins" and they hail from South America (they're also described as "temperate penguins).
Three things we're liking? It's an outdoor space. There's a "crawl-in" feature that lets a visitor feel as if they're in the exhibit (nope, you're not really). And three? There will be "nesting areas that will recall the burrows" of the birds. We could chat about a good burrow for the better part of an hour. And the remaining part of the hour? Just why penguins have that special waddle.
Viewing the June Keyes Penguin Habitat is a part of aquarium admission.
Follow NBCLA for the latest LA news, events and entertainment: iPhone/iPad App | Facebook; | Twitter; | Google+; | Instagram; | RSS; | Text Alerts | Email Alerts
Copyright FREEL - NBC Local Media